Subject: Why you should get lean and stay lean… Forever.
(1) Skinny-fat men often have very low testosterone levels. (Male hormone that enables you to build muscle mass). This issue can be fixed with a high testosterone diet plan, dietary supplementation, good sleep and regular exercise.
(2) When you bulk for too long (past the point where your abs are visible), the following things happen inside your body:
Estrogen (Estradiol/E2), the female hormone, increases.
Estradiol binds to androgen receptors.
When this happens, your free testosterone has less androgen receptors to bind to. In other words, bulking up for too long makes your free testosterone useless and thereby muscle gains are harder to come by. Combine this with the fact that your nutrient partitioning is better at healthy body-fat percentages (8-15%) and you not only have a body that has a hard time using food for muscle building but also a body that lacks the ability to build the muscle mass.
(3) When you get fat, you create fat cells. These fat cells are "ready" to be filled up when you are in a caloric surplus, and they NEVER go away. That's why ripped skinny-fat guys regain their love handles in a matter of days when they "go off their diet". The fat cells are always ready to fill up. All you can do is reduce their size through a strict caloric deficit and regular exercise, but once you fall of the wagon the fat returns.
(4) If you've been skinny-fat or fat for a long time, you may have man boobs. In some cases, these man boobs will still be there after you diet down and lose fat. When I lost 60 pounds back in 2011-2012 I got lean for the first time in my life, had a visible 4 pack, no love handles when sitting down and a body-fat percentage close to 8. Despite that, I still had man boobs. Later I found out that my man boobs were not directly caused by being fat, they were glandular tissue and not fat tissue. The glandular tissue is a result of rapid fat gains in puberty which led to a rapid increase in estradiol (female hormone) and guess what happens when you have too much of the female hormone estradiol and too little testosterone… You get man boobs. Not regular man boobs caused by fat, but REAL glandular tissue that can only be removed through surgery (unless it's recent, then lifestyle changes and estrogen blockers can revert it).
(5) After reading the 4 points above it should be crystal clear that a large amount of skinny-fat and fat men have hormonal issues that must be addressed before the word "bodybuilding" is mentioned. As a skinny-fat guy you should fix these hormonal issues through a healthy and balanced diet that enable you to shred the fat in a sustainable way, a simple and progressive strength training routine and regular high quality sleep. Once you're lean, healthy and strong you can start thinking about "building your aesthetics".
Be proud but stay hungry,
– Oskar Faarkrog
Other Parts
Follow On Social Media: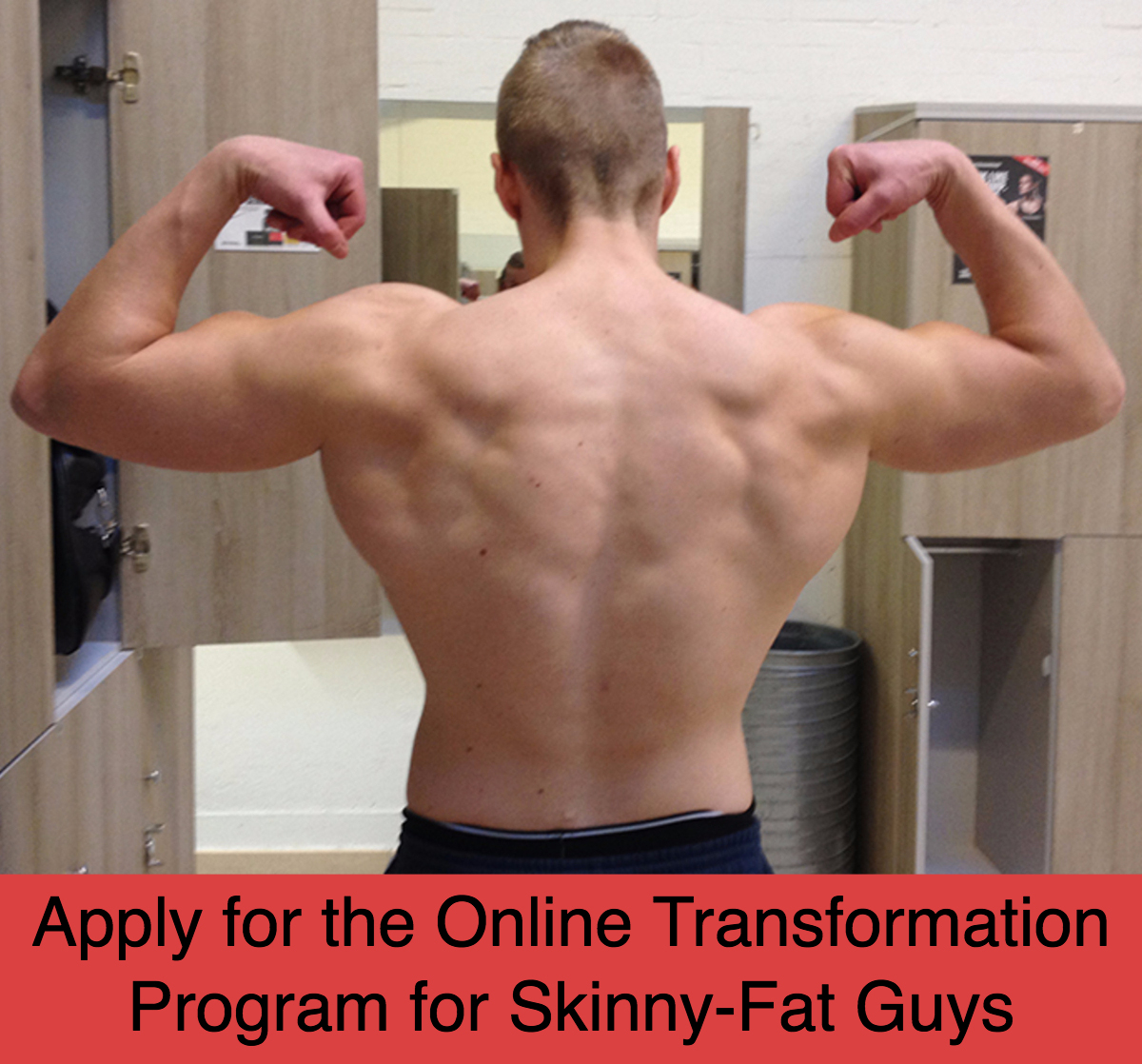 Read my free 50 page guide "The 2 Phases of a Skinny-Fat Transformation"