Roughly 1 year ago I started working with Harrison Max.
He started out training as a skinny ectomorph with low body-fat levels and minimal muscle mass on his frame.
The goal was to add more mass and that's what we did.
I put Harrison Max on a rigorous 6 days per week training program that focuses on getting stronger on the weighted chin up and dip along with a balanced high Calorie diet.
Why the weighted chin up and dip?
Because these are the best exercises to implement for someone who already mastered the Phase 1 goals (15 chin ups, 30 diamond push ups, 100 squats).
The weighted chin up trains the lats, biceps and rear shoulders.
The weighted dip trains the chest, triceps and front shoulders.
In other words, with these 2 exercises you're hitting nearly all of the most important upper body muscles for a skinny-fat guy.
In addition to this, moving your body through space has a powerful signalling effect which results in dramatic body-composition changes.
This is why the weighted chin up and dip are chosen over popular exercises such as rows and bench presses.
Every week Harrison checked in with me and we kept track of his progress.
Here's an outline of how Harrison Max's strength and bodyweight progressed in around 10 months:
Height: 165 CM (5'5″)
Bodyweight: 62 KG (136 pounds) > 79 KG (174 pounds)
Weighted chin ups: 7 x 23 KG (50 lbs) > 9 x 27 KG (60 lbs)
Weighted dip: 7 x 17 KG (38 lbs)  > 7 x 25 KG (55 lbs)
You have to keep in mind that Harrison gained nearly 40 pounds of bodyweight while working on these weighted exercises.
Therefore, when you adjust for his weight gains the numbers look a bit different:
Weighted chin ups (adjusted for bodyweight): 7 x 85 KG (187 pounds) > 9 x 106 KG (233 pounds)
Weighted dips (adjusted for bodyweight): 7 x 79 KG (174 pounds) > 7 x 104 KG (228.8 pounds)
In other words, on chin ups he was able to generate a total training volume of 7 x 85 KG (595 KG) per set when he started Phase 2 but ended up generating a total training volume of 9 x 106 KG (954 KG) after 10 months of training.
This improvement was reflected in his body-composition which changed into a very muscular 79 KG at just 165 CM height:
Take a look at the changes in his upper body measurements (from lowest to highest readings):
Arms: 34 CM (13.5 inches) > 40 CM (15.8 inches)
Shoulders: 112 CM (44 inches) > 135 CM (53 inches)
Chest: 90 CM (35.4 inches) > 112 CM (44 inches)
To give you some perspective, he has shoulder and arm measurements that are close to my own at a height of 165 CM and I'm 190 CM tall and trained for nearly 10 years.
There was a minimal increase on the waist measurement and almost no increase on the hips suggesting that he gained minimal body-fat during his bulk.
These are massive gains which many don't even achieve over a life-time of training.
Harrison made most of the gains in about 9-10 months of consistent training.
Be proud but stay hungry!
Oskar Faarkrog, ISSA Certified Trainer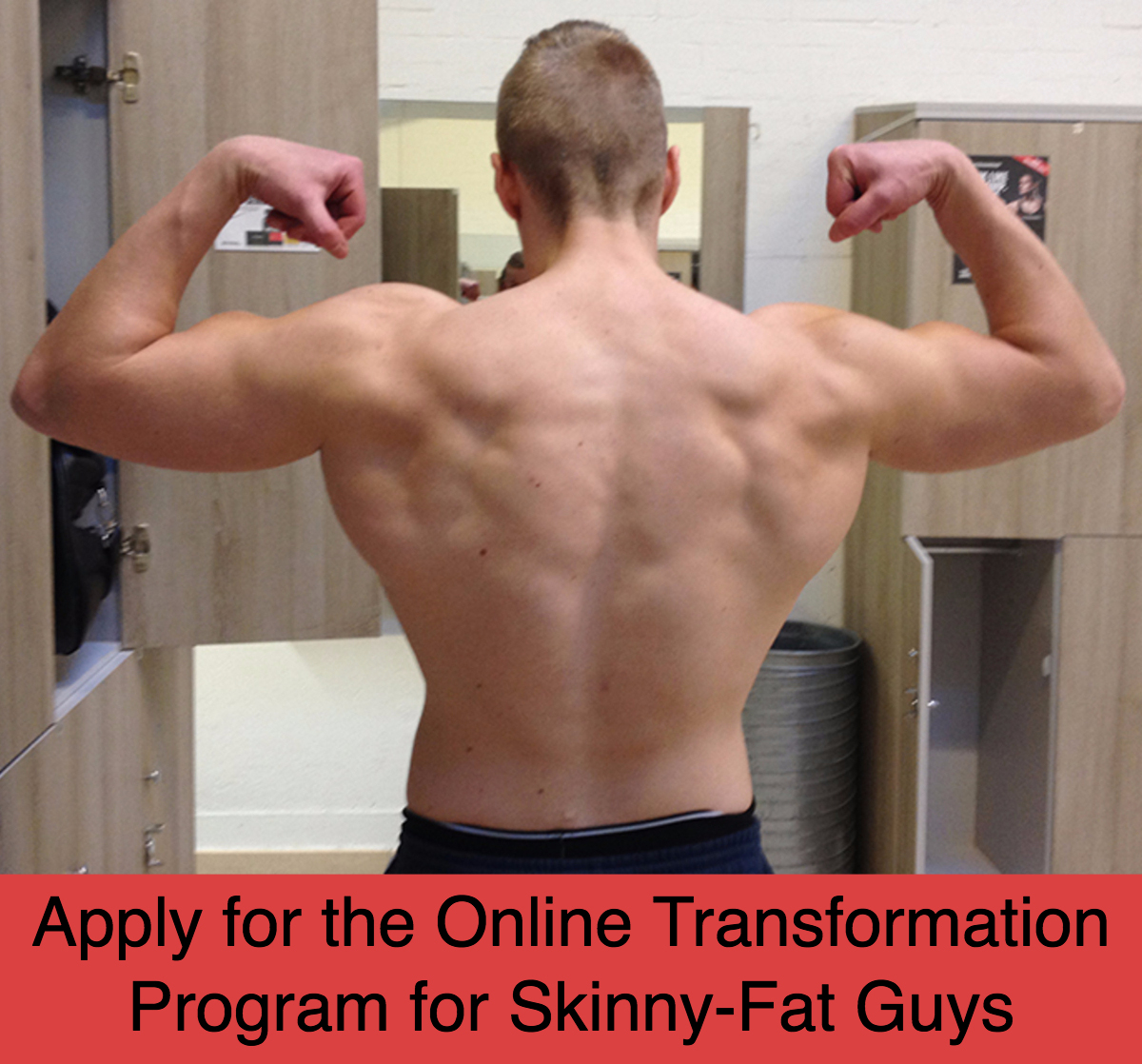 Read my free 50 page guide "The 2 Phases of a Skinny-Fat Transformation"