In summer 2020, Keith from USA joined my Online Transformation Program.
He was 53 years old and had recently been diagnosed pre-diabetic.
Throughout most of his life he was skinny-fat with an under-muscled physique, a small bone structure and high body-fat levels, however the pounds started adding up and he was now all out fat instead of "just" skinny-fat.
Within 8 weeks of starting the program, he lost 10 CM (4 inches) around the waist while going from 0 to 4 full chin ups.
His bodyweight did not change much, however body-composition changed massively.
After being on the program for 8 months, here's his result:
The key to Keith's fat loss success was his diet.
Here's what he said about his diet:
I'm going to keep this diet for the rest of my life. I've never felt better, look years younger, and most of the pre-diabetic symptoms have minimized. Following Oskar's program has helped me in so many ways: I'm more confident, I have loads more energy and stamina, and I feel much better about myself. The diet is restrictive, but very easy to maintain once you understand just how much it's doing for you. I have no difficulty staying on this diet week to week.
And here's his full testimonial:
I went online to search for anything, a program that could work for me. I knew the basics of weight training, I'd tried several at-home programs back in 1990's and early 2000's. Those never seemed to do much, either because I wasn't eating right, or I didn't know how to exercise properly… or maybe because the programs were designed for men a lot different from me. You see, I've had low testosterone all my life. It caused a lot of problems, and I've had to suffer the hormonal consequences all my life. It was very hard as a youth… and it's still not easy. I hated how my frail physique had no strength or endurance. I was confused and ashamed because I didn't understand why this happened.
When I decided to try Oskar's program, to actually spend money on it- I committed to it completely. I knew the usual reason diets fail: after a few days or weeks, the dieter starts fiddling around with it, hoping to tweak it so they can have whatever it is they think they're missing. I don't miss anything (maybe cheese), and I'm allowed a cheat meal a week, so I can have cheese if I want it… but now, I generally just don't want it. Even when I eat out, my meals are on diet! That's how good it is- you won't want to go back to the bad stuff.
Oskar himself has impressed me tremendously. His professionalism is superb, he is considerate and caring in his demeanor, and his knowledge of fitness is top-notch. He has trained for years, doing the hard work to figure out all of the details of this program for us. That kind of determination is very easy to appreciate and admire. In addition, he's put together an excellent web site, filled with articles on every aspect of this program and how to fix being skinny-fat. His exercise and diet documents are well-written and easy to follow. He's always helpful and will promptly answer a client's emailed questions. I really appreciate both his advice and his attitude.
I'm slowly improving, at my age I can't afford to go too fast and injure myself. Slow but steady is the way. People are commenting how much better I look.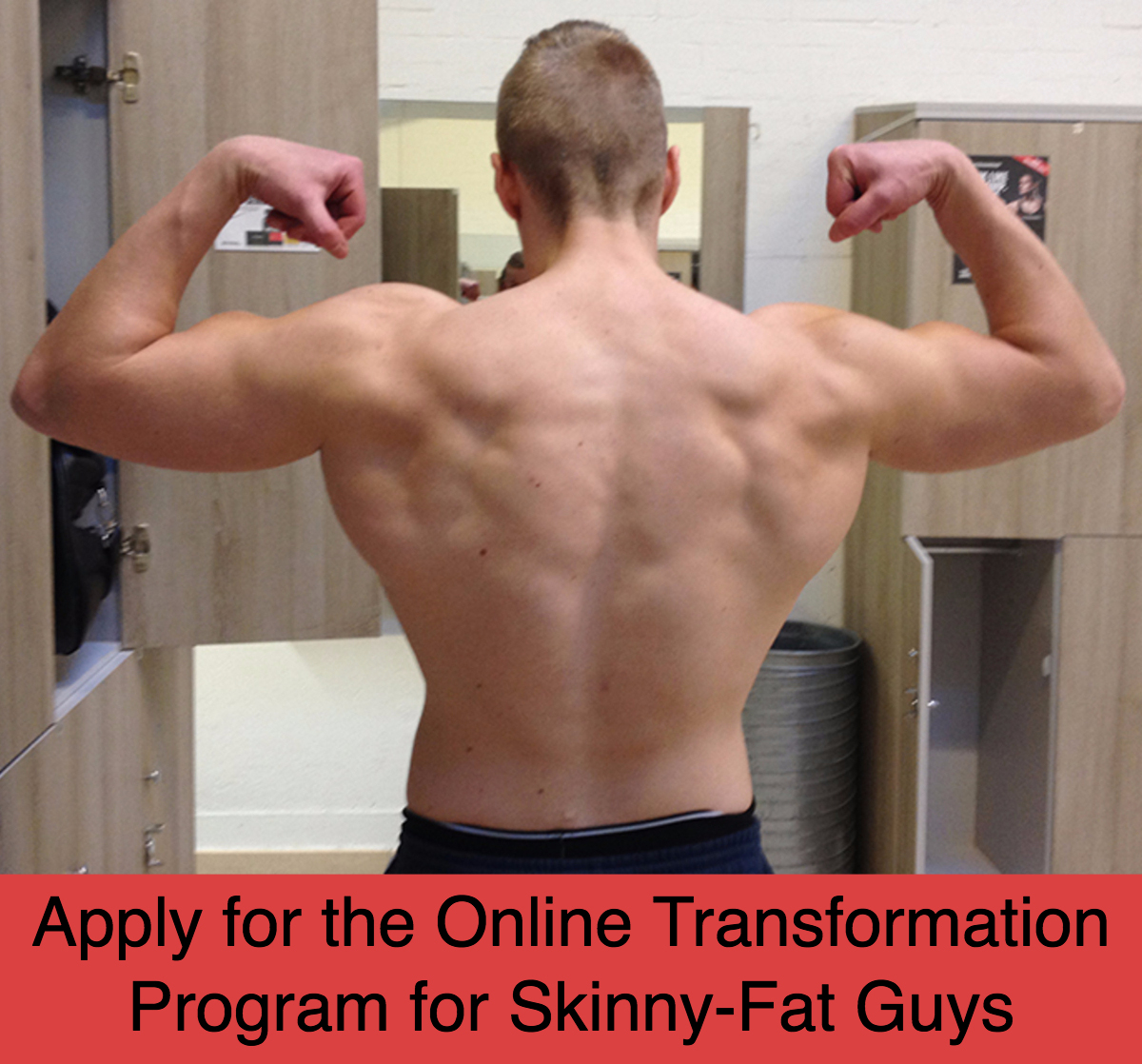 Read my free 50 page guide "The 2 Phases of a Skinny-Fat Transformation"