Notes:
I blurred out my client's face and because he has a high profile career and works for a conservative organisation.
During the last 5 months of coaching he added a total of 5 CM to his biceps, 8 CM to the shoulders and 5 CM to the chest while shredding body-fat around his waist. A very impressive result considering that he is 200 CM tall with a long frame to fill out.
Testimonial:
Below I will post the questions I asked him for his testimonial and his answers (100% unedited).
1a) Why did you hire me as your body transformation coach?
I was researching different exercises and diets for guys with "dad bods".  I was very impressed with your articles on skinny-fat transformation, because that is me!
I was equally impressed that you had gone through – and documented – your own skinny-fat transformation.  I hired you because I was confident that you knew what you were talking about, and could help. 
1b) Was it an easy decision?
Yes, I needed help with proper diet and the correct exercises.  I also needed guidance on the steps involved in the transformation… ie. Lean out, then bulk up
2) How has my coaching helped you with your body transformation?
I have fully leaned out, and am just beginning the bulk phase. You have monitored and advised on my progress all the way through.  I have much better eating habits, and feel good with my physique
3) Did your body transformation help you overcome other issues in life?
Yes. It definitely helped with confidence in "shirt off" situations.  It also has helped with health.  I eat so much better now and feel so much better in terms of energy.
4a) What kind of results have you gotten since you started following my coaching program?
I have fully leaned out, and am in much better shape
4b) How do these results compare to the results you got on other programs you followed prior to my blog advice and coaching?
Well, it's the first time I've been lean since my early 20s… so there is no comparison!!! I did not get results with any other workouts I tried. 
5) How do you feel about the structure of my diet plan? Do you feel strong and energized on it? Is it easy to prepare the meals and stick to the diet throughout the week?
The structure is great.  It is easy to follow and meal preparation isn't overly taxing.  I definitely feel healthier and more energized on the diet plan. 
6) How do you feel about the structure of my training program? Do you feel your muscles get worked well in a time efficient manner?
I love the structure.  The training time per workout is not too long, and it is not overly demanding in terms of complicated exercises.
7) What makes my training programs and diet plans better than those you tried before?
I had never been on a formal plan before.  What I can say is that your program is easy to follow – and works!
8) How did you like the weekly progression check ins and monthly progression photos? Did they help you stay focused and stick to your plan?
They did help, although I would tend to forget a lot of the time… The monthly photos were impressive to see and my favorite part. 
9) During my coaching you had access to my private email address and you could ask any questions that came up. Do you feel I gave you timely and clear replies to your questions?
Yes, I thought you went out of your way to provide a thoughtful and relevant answer each time I had a question.  Your responses were always within 24 hrs.
10) How clear are the exercise and diet instructions in my documents? Were they easy to follow?
Very clear and easy to follow.
11) What does a typical day in your life look like?
My days are crazy. I have my kids half the time, and obviously all of the responsibility that comes with being a single dad.  I have a full time job, and a busy social life. I also travel a lot.  My typical days are generally a rushing combination of all of these things!
12) Is there anything you would like to add? If so, please do it here.
I'd like to say thank you.  I took a leap of faith hiring someone through a website & email – and you have come through in flying colors.  I am very happy with the results so far and am looking forward to completing the bulk phase. I am excited to see where my physique is at in another few months.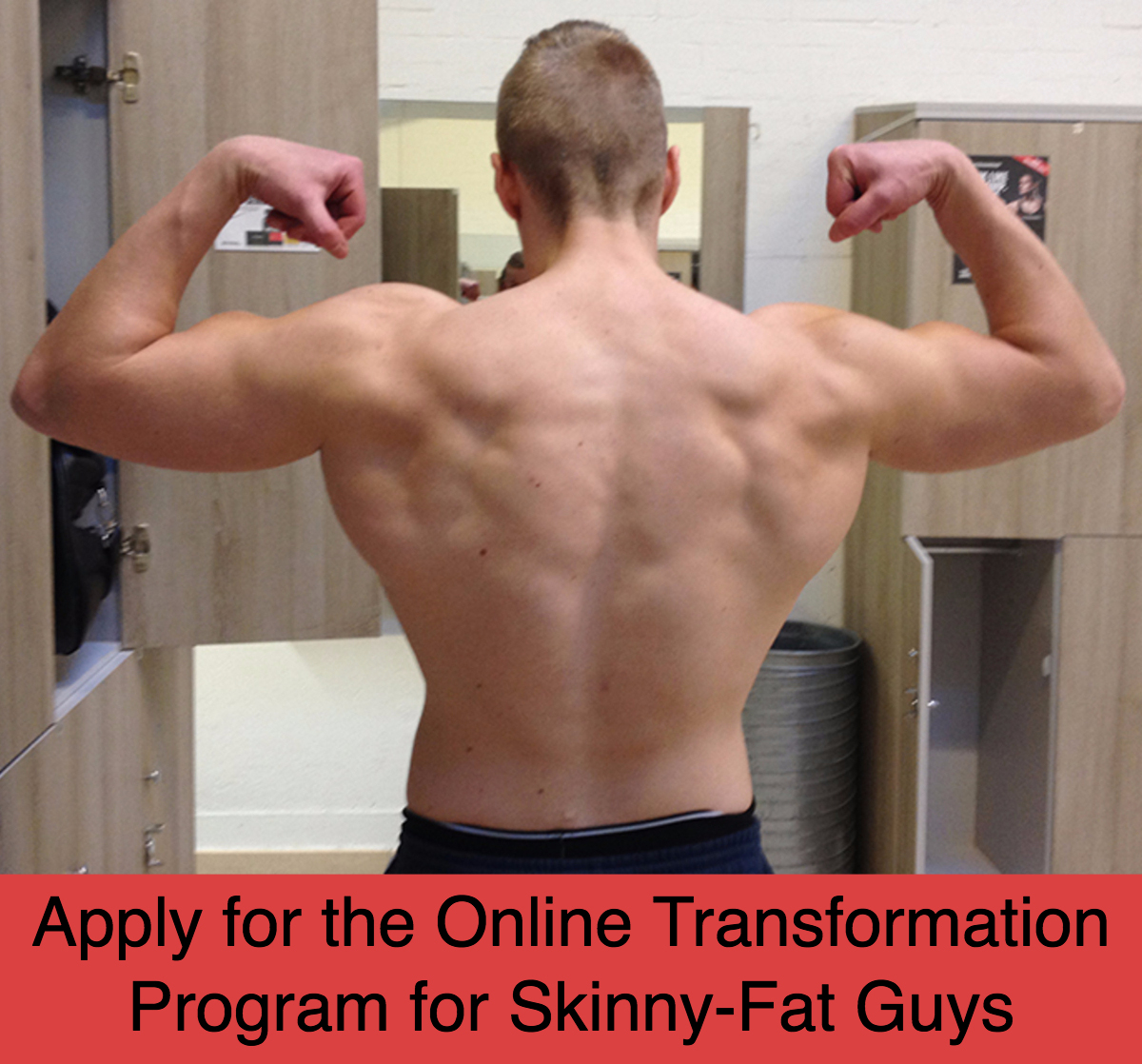 Read my free 50 page guide "The 2 Phases of a Skinny-Fat Transformation"