Apostolis joined my 1 year physique transformation program and here's his progress:
Waist reduced by 19 CM (7.5 inches), hips reduced by 12 CM (4.7 inches) and his chest reduced by 9 CM (3.5 inches).
Arms and shoulders both increased in size. Especially his shoulders grew a lot.
His shoulder measurement increased with almost 10 CM (4 inches) since starting his training suggesting that he gained a lot of muscle mass while losing body-fat.
On the surface, this all looks good, however progress was not as smooth as you would like to think.
In the first 5 months of training, Apostolis was consistent with his training, but he didn't lose a single pound and his fat loss was minimal.
He had no issue with completing his training sessions and pushing himself, so his muscle and strength gains were good.
However he was addicted to sugar and fatty junkfood.
It took us a long time to work through years of junk food and sugar cravings but now we have a working strategy that enables him to make progress while feeling good throughout the process.
Apostolis has now been losing body-fat every single month for 5 months straight.
His fat loss is consistent and gradual and I'm 100% sure that he will fully lean out this year and achieve his goal physique.
Here's his full testimonial:
Full Testimonial From Apostolis:
I started the journey to transform my body several years ago. I was unhappy with my physique and how my body looked. I had that look since my teenage years. So it was time to change that.
I did started following extreme diets and advice found on forums and the internet. Initially, they seemed to work but after some time, when I resumed eating, I went back to my former self.
I tried all sort of things, like doing diets without carbs, keto, fasting, lchf. Nothing worked on the long term.
Then, I found Oskar's blog where he explained the way he managed to change his physique through the years and I identified myself with him. We had the same body type. I was skinny fat. I never went beyond 96kg in my life but I had nonexistent muscles so every time I was losing fat due to a diet, I looked terrible.
After that, I decided to go try a gym. I got a subscription but honestly I was lost. I asked at various forums but the advice was vague.
I decided to follow Oskar's bodyweight exercises and it was working. But then, I stopped for a while. Things went back to where I was.
So after trying things on my own, I finally decided to enroll in Oskar's 1 year transformation program last summer. What I needed was guidance, to have someone beside me helping all the way through and don't let me quit no matter what. That was Oskar for me!
It wasn't an easy decision. I won't lie. It is a big step forward but it shows your true intentions. After that there is no way back. I was skeptical about online coaching at first but I decided to trust Oskar and I was right.
Oskar helped me a lot with his tips, he re-adjusted my diet-meal plan and exercises when I had stalled and it was necessary to make changes.
I learned to love exercising and to be energetic. This is very important.
Other issues I had was heavy sugar addiction which I have gradually overcome. Now, I eat healthily and don't exaggerate with my food choices. Of course that doesn't mean I will never enjoy a sweet taste again, there is at least one day per week that I can enjoy a sweet I am missing. This is really important both psychologically and as to reset the hormonal balance.
Lack of confidence and discipline to work hard were also an issue and I definitely feel more confident now.
Apart from all the inner-mental changes, there are also physical ones. I remember when I started the program; my waist was almost around 109cm wide. Nowadays, it is around 94cm and it keeps decreasing. (90 CM a month after writing this).
My hips have also decreased substantially and I have got bigger arms and shoulders.
So I am packing up muscle while losing fat at the same time. It is possible, especially for someone who has never exercised heavily before.
But of course every person is different and it took us quite some time together with Oskar to find out what works best for me.
The advice on Oskar's blog is unique. Every skinny fat guy out there should have a read of them and try to incorporate them to their training schedule. I would say they are life changing, at least for me.
All diets I tried before were not sustainable for a long time. So I was gaining back any fat lost after resuming my diet. Oskar's diet can be kept for a lifetime. Nothing extreme or too restricted. I am getting my protein, carbs and good fats. Moderation is the key. The training is adjusted to my needs and body type so it works for me.
I will keep this last part to share that I am really grateful because Oskar has certainly improved not only my body physique but my whole life approach. I would certainly like to visit him someday and thank him in person and why not train together for a session.
Good luck to everyone who is starting now! Remember, if I can do it, you can do it too! Some key words to take with you are 'Consistency, Dedication, Discipline and Determination', stay focused and as my coach says "Be proud but stay hungry"!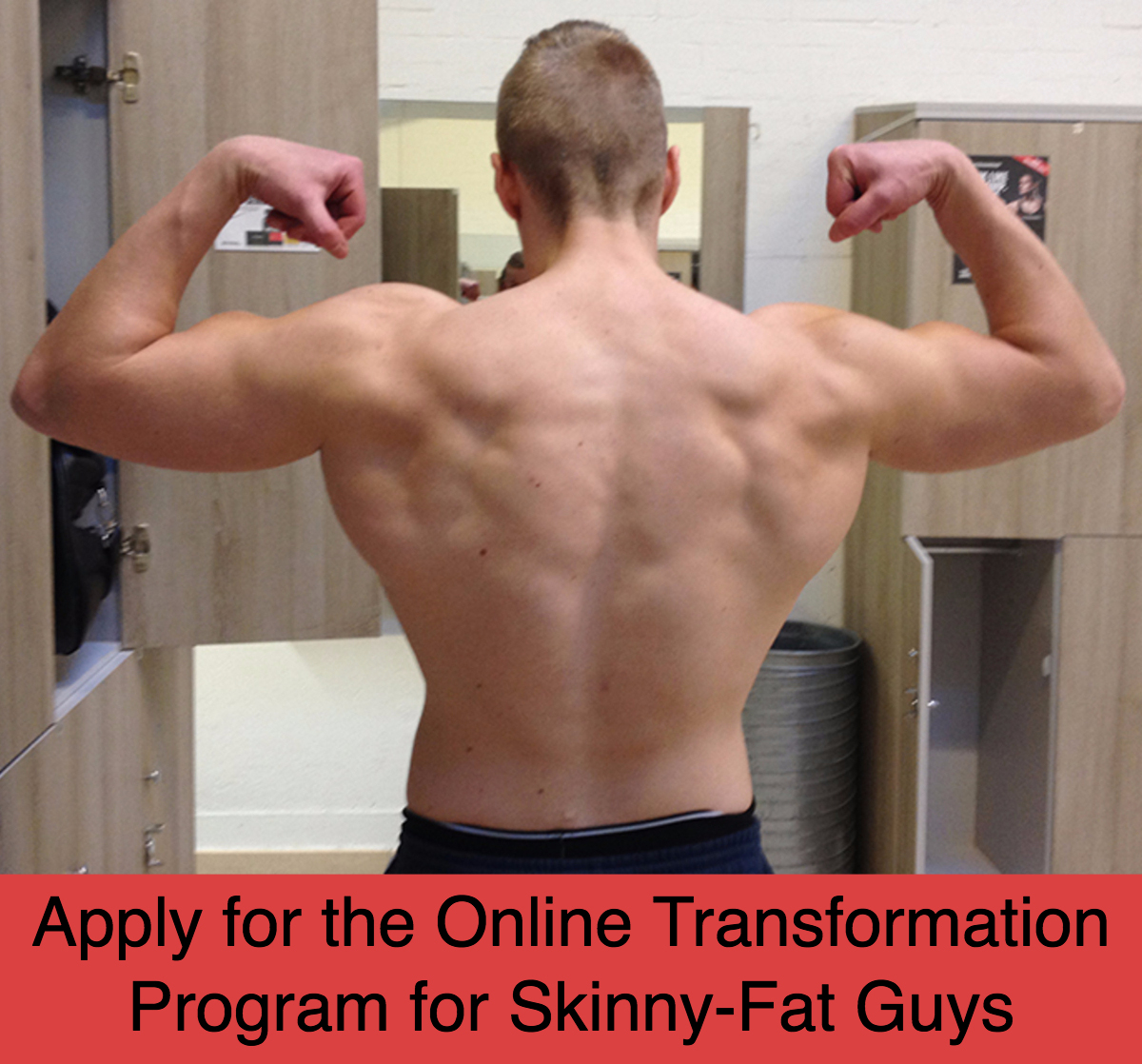 Read my free 50 page guide "The 2 Phases of a Skinny-Fat Transformation"