One of the things I see in in my beginner skinny-fat readers is that their waist measurement is OK for their height and structure or just a bit too big, yet they look soft and pear shaped with a seemingly big lower waist/hip area.
Their main focus is naturally on how to get rid of all that fat to make their waist and hips look smaller.
Their idea is that they can lose all that fat while building muscle and in 3-6 months time end up making a transformation like this:
In reality, to go from skinny-fat to lean and muscular, you'll have to go through numerous muscle gain and fat loss cycles while staying at moderate body-fat levels. (think a flat waist without any love handles — not visible abs).
There's no way that your body will gain a significant amount of muscle mass while constantly cutting Calories and trying to get rid of that last few inches of body-fat on your lower waist.
In order to gain muscle mass (beyond the first few months of beginner training), you need to get your body into an anabolic state and that only happens in a Calorie surplus where you consistently gain bodyweight.
You'll need to get a bit uncomfortable and carry some body-fat to gain all the muscle mass that's needed and this process will last several years.
The goal is to keep fat gains to a minimum while gaining muscle mass.
Here's a photo of my Online Transformation Program client Harrison Max when going through one of his bulk cycles in the first year of training:
This is the kind of body-fat level he had to be at to be able to pack on muscle mass each month.
His shoulder circumference increased 23 CM (9 inches) during his first year of bulking because he accepted that getting that kind of result requires that you temporarily forget about abs.
Later on, he got the whole package when he dieted down to reveal his muscle mass: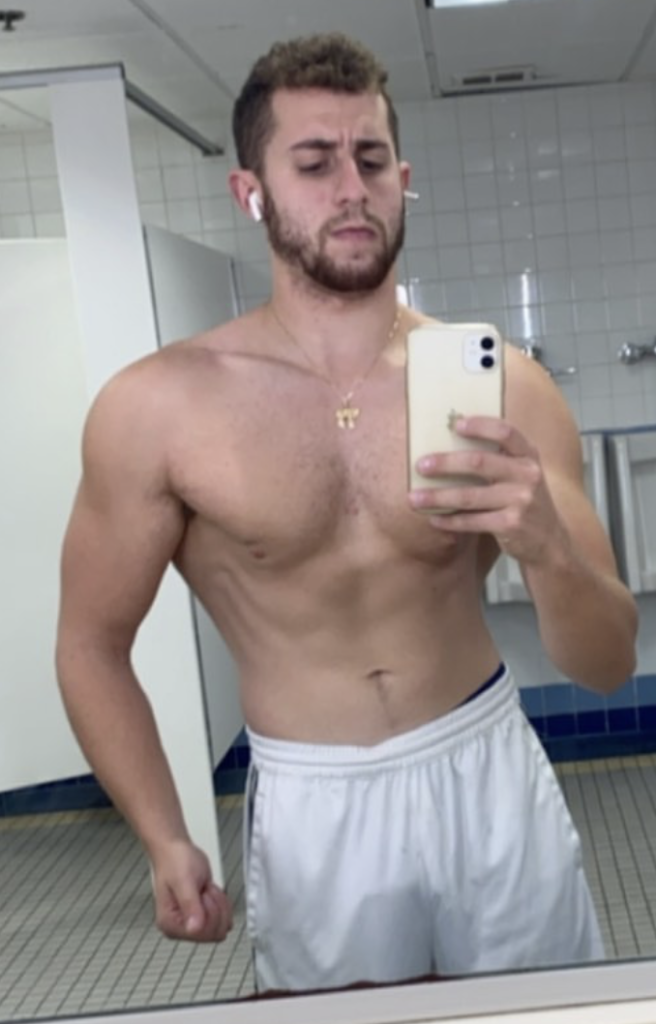 Dieting down to this body-fat level was almost effortless for him and just felt like a break from eating all that food. Why? Because all the hard training and muscle gains optimized his metabolism to lose body-fat fast.
Muscle mass is metabolically precious. The more muscle mass you have, the faster your metabolism becomes.
In addition, when you have more muscle mass, your workouts tend to be much better too, thereby you expend more Calories on a daily basis.
Similarly for myself, I also had to walk around with higher body-fat levels to build up the mass I needed.
Throughout my training career, I added somewhere around 30-35 CM (11.8-13.8 inches) to my shoulder circumference and most of those gains came when I gave up the idea of walking around with abs: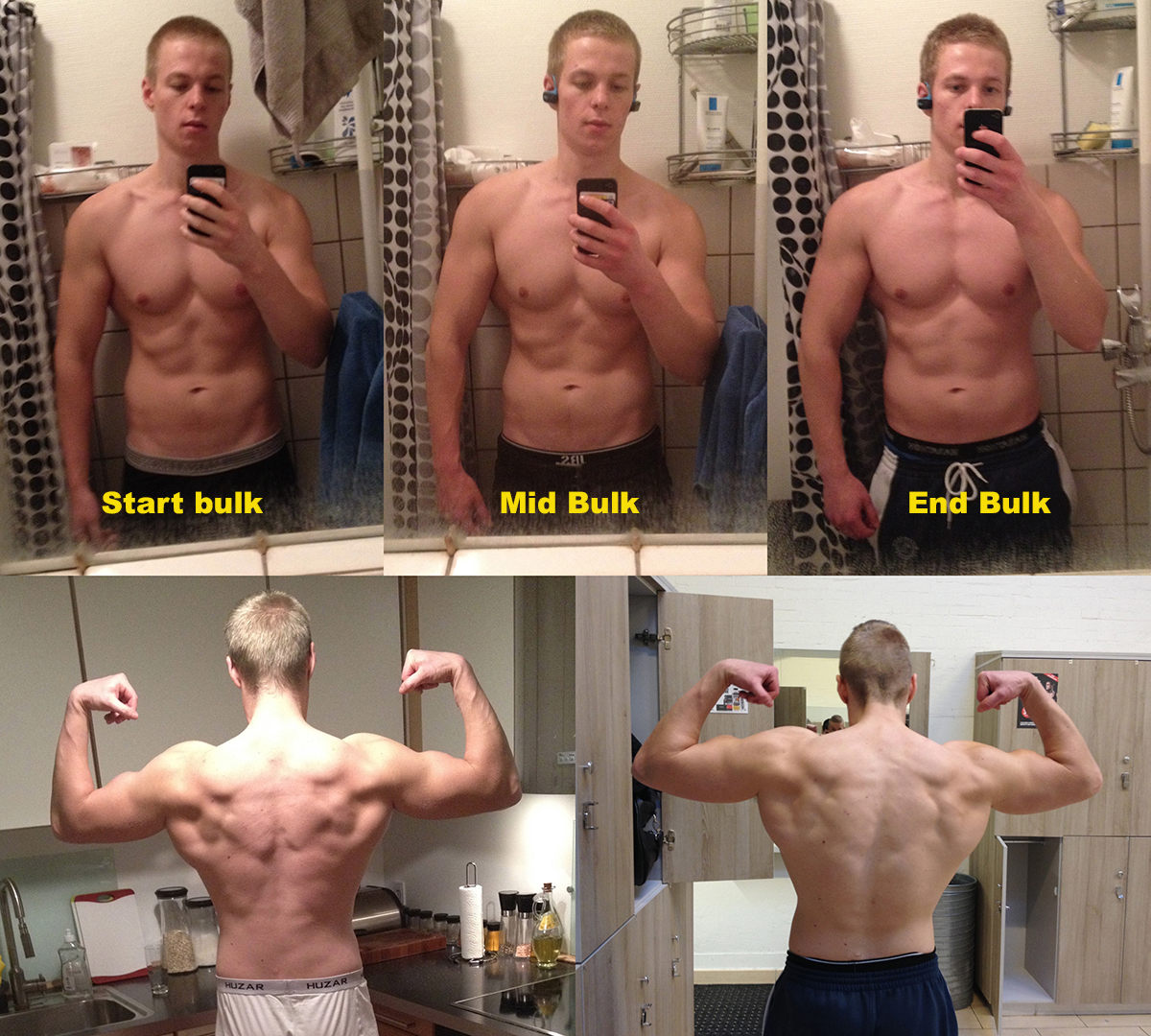 I have never seen an increase in my shoulder circumference when eating less and trying to cut body-fat.
All of the gains happened when I was actively dialing in every factor for muscle gains. I ate even more quality food, used that as fuel to train even harder, my weight was consistently moving up and I slept 8-10 hours a day.
When all of these were dialed in, my measurements and strength consistently increased each month.
I saw a combination of fat gain and muscle gain, however I did my best to skew the ratio towards muscle gains by eating clean, limiting the weight gain and training hard.
Therefore, my advice to you is to not obsess about fully leaning out until you've already built a muscular physique.
In most cases, the best way for skinny-fat guys is to lose roughly half of the fat you think you have to lose then switch gears and focus on gaining muscle mass through a clean bulk.
Getting rid of that last amount of "stubborn fat" on your lower stomach is often not worth it because it can take months of hard effort.
Once you start bulking, that body-fat immediately returns and that's going to mess with you mentally. You'll end up quitting your bulk before even seeing results just so you can get fully leaned out again.
A lot of skinny-fat guys who lean out end up staying like this for years where they try to be too lean. The end result? They never move past a skinny physique:
In order to look muscular and stand out at low body-fat levels, you have to build a lot more muscle mass than you initially think.
In the picture above, I was already able to deadlift 400 LBS and bench around 200 LBS but I barely even looked like I lift after dieting down.
It took several years of proper training using a combination of bodyweight (focusing mainly on pull ups and diamond push ups) and bodybuilding training to even look like I lifted:
Now think about this: What is your long-term goal? Being muscular at moderate body-fat levels or just trying to stay skinny?
If you just want to stay skinny, then by all means continue the Calorie restriction.
However, if your long-term goal is to add an extra 7-10 inches to your shoulder circumference then don't fool yourself, it won't happen unless you temporarily sacrifice some of that leanness for consistent weight gains.
Adding the muscle mass is much more of a long-term process that will take at least 1 year and more likely somewhere between 2-5 years, however you won't get those muscle gains if you constantly try to get a bigger Calorie deficit to starve off those last few inches on your waist.
For the vast majority of people (especially skinny-fat guys with suboptimal genetics for gaining muscle mass), being at a moderate body-fat level is a requirement to gain muscle mass. This is where your testosterone levels will be highest and where you will be able to eat enough food to support hard training.
Be proud but stay hungry!
Oskar Faarkrog, ISSA Certified Trainer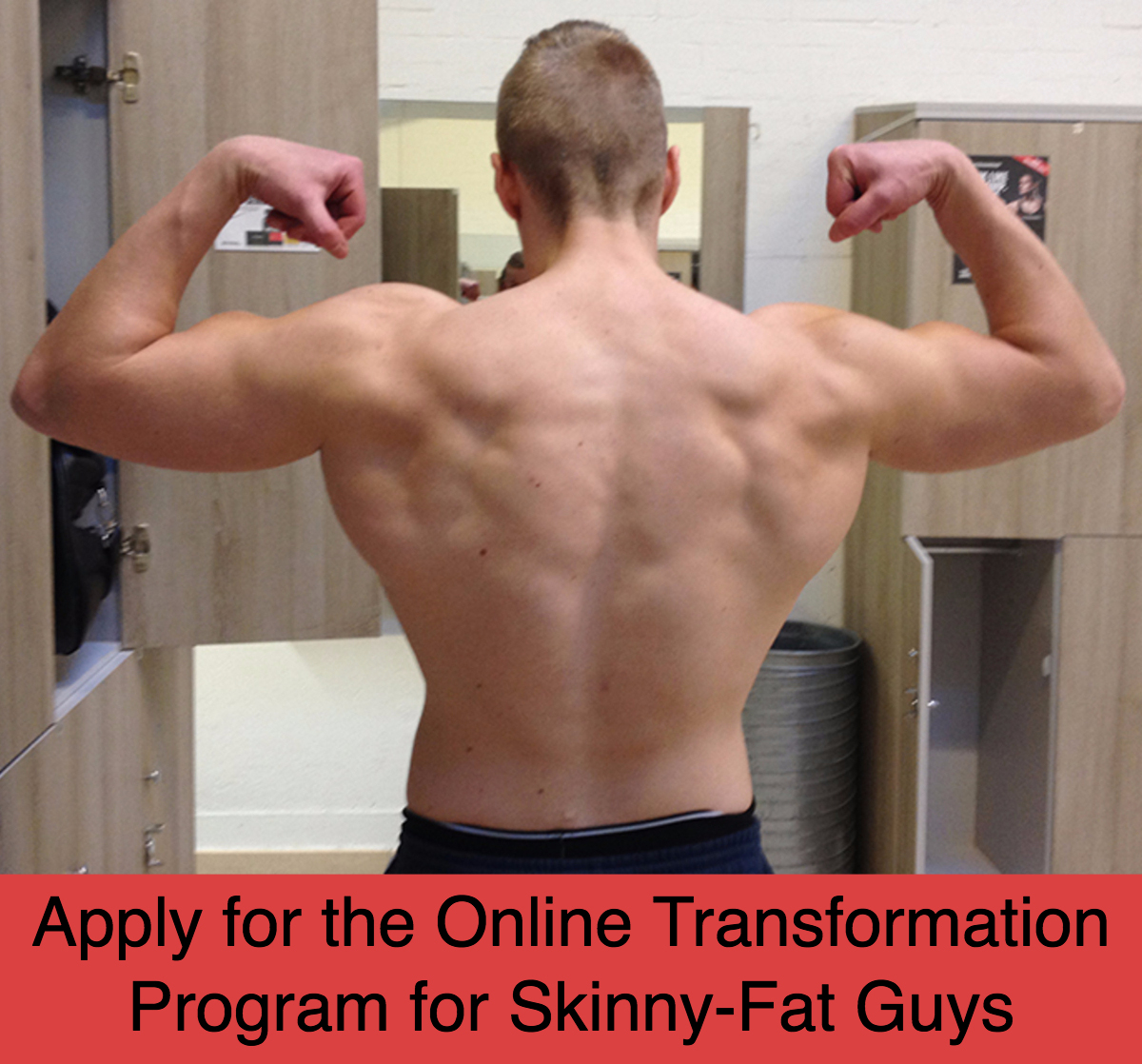 Read my free 50 page guide "The 2 Phases of a Skinny-Fat Transformation"