Since I started sharing my training advice online 8 years ago, I have been getting a lot of comments from "evidence based trainers".
Here's an example of a comment I got on my facebook page:
"Considering research would suggest after 9-11 sets per muscle group per week most will have a diminishing return and are just simply filling their time with 'junk volume', i don't think you truly understand the principles you say you're applying – yes individuality is key in that, but then how are you assessing and collecting data to say that it is actually doing what you're saying it is and not just spinning your wheels on a weekly basis?"
One of my upper body workouts is usually around 75 sets completed in 70-80 min. When I bulk I perform this 3-4 times per week.
Lots of circuits of compound movements combined with isolation work.
A circuit is usually 2-3 exercises done back to back. E.g. wide grip pull ups, dips, db reverse flyes.
Why do I do this? Because I get much superior muscle gains from increasing volume and frequency compared to weight on the bar.
I have experimented with this over and over again.
Nearly all of my muscle has been built that way.
For example, after training nearly 3 years with heavy compound lifts my arms measured around 35 CM (13.7″). I started at around 33 CM (13″) if I recall correctly. The bottom line is that my arms did not have any visible improvement after 3 years of heavy weight training.
At this point, I had already increased my squat, bench press, deadlift and overhead press a lot.
Bench press 30 KG (66 lBS) > 100 KG (225 LBS).
Shoulder press 15 KG (33 LBS) > 70 KG (155 LBS).
Deadlift: 47.5 KG (105 LBS) > 180 KG (400 LBS).
Squat: 30 KG (66 LBS) > 140 KG (315 LBS).
Despite making these strength gains and thereby following the "proven" principles of progressive overload, I barely saw any difference in my arm size.
The same goes for shoulders, back and so on. I tracked actual measurements to make sure I'm doing the right thing for me.
Then once I changed my training from focusing on adding weight to the bar to doing more bodyweight training and improving mind-muscle-connection for each individual part of a muscle and doing more volume and frequency, my progress exploded.
Nearly all of my muscle has been built that way.
For example, my arms went from 35 CM (13.7″) to a lean 43 CM (17″) training this way while seeing no increase in strength gains on the compound movements.
The same goes for my shoulders, chest and back which increased even more.
That's how I know it works for me.
It may not be scientific but it works.
10 years into training, I'm 100% injury free and bigger than almost all naturals in any gym I go to. How many trainers that go heavy on squats, deadlifts and bench presses on a regular basis can say they've trained 10 years completely injury free?
I dont think that many can say yes to this.
Most end up with a physique that doesn't even look like they lift when wearing a shirt and lots of debilitating injuries that follow them for life.
In contrast, when I go out I routinely get comments from people on how jacked I look. I carry way more muscle than my frame was designed to carry and for over 5 years I've been at a point where my only goal is to maintain my muscle (or perhaps shape up some areas) instead of continuously adding more size.
My physique looks much bigger than it's strong. At least when you look at conventional standards of strength. I can't put up a lot of weight on the compound movements because I never train them. My lifts are barely at the intermediate level. However, if I do some of my favorite exercises such as wide grip pull ups and dips, I can knock out 20 reps of wide grip pull ups and 35-40 dips on a good day at +100 KG (225 LBS) bodyweight.
This just goes to show that there are many ways to build muscle, other than the traditional "proven" 5×5 training. As long as you routinely go to failure and train harder, your body will gain muscle! Even if you train with 30-50 reps. You don't have to follow "the rules" and do squats, deadlifts and bench presses for 4-10 reps because a research journal told you so. If it doesn't work for you, ditch it and try something new.
Does that mean my clients train that with super high volume and frequency and use the same exercises as me? Not at all. It took me years to build up to this way of training and I understand that there's a difference in which exercises are optimal for each person (although I'm biased to using bodyweight movements and weighted bodyweight movements when possible since I found these to produce better results for myself and my clients).
Most of my clients are doing progressive overload the traditional way and starting out easier then we gradually build up.
Once they reach good numbers on compound movements, I have them focus more on high volume and high frequency.
The long-term goal I have for most of my clients is to reach weighted pull ups and dips with 40 KG (88 LBS) attached for 6-8 reps.
Again, here I track measurements as well. If their measurements don't improve, we adjust the program.
So I guess you could say it's scientific for the individual I train.
The difference between me and most "evidence based trainers" is that I understand that 1) There's a difference in the way all of us respond to training, 2) When you train someone who is naturally a very low responder to weight training, you need to get a bit creative to shock their body into growth. This usually means finding ways to work MORE and HARDER while keeping risk of injury and overtraining to a minimum.
Finally, in regards to the amount of sets done per week for each muscle group: 9-11 sets for me is a joke for bodybuilding purposes and goes to show how off science is.
That means if you train full body 3 times per week you do 3-4 sets per muscle group each workout.
Even if you dropset the shit out of all these sets you're basically doing a beginner workout and barely breaking a sweat.
I'm in the gym to get the most out of my time. Always on the move, drenched in sweat and training hard. That's what I found get's me the best results.
Not going in and doing 5 reps of a squat then resting for 5 min and doing it again. That's how you train for strength as a beginner and not for muscle and conditioning.
I can agree that this amount of sets is sufficient to gain strength if you have a well designed program but not for optimal muscle gains.
In my experience, to maximize muscle gains you have to hit each muscle group with exercises that emphasize different muscle fibers and take all those exercises to muscular failure. On a regular basis.
For example, for a small muscle group like biceps you have inner, outer biceps and brachialis. That's 3 exercises right there per workout. If you stick to 3-4 sets per workout that means you have just 1 set per exercise. Does that really work in reality or just in a textbook? When I've experimented with training with such a low volume, I LOSE lean mass and performance. I can't even maintain what I built.
In contrast, with this training that supposedly is unscientific I've built nearly all my muscle mass and walking around at 188 CM and 105 KG bodyweight which is very big for my frame.
So I'll tell you this: I do not believe 9-11 sets are anywhere near optimal for gains. And what does diminishing returns even mean? Does it mean if I want to gain 60% of my genetic muscle mass potential I can do it with 9 sets and then if I want the last 40% I need to do more sets? Why not just go all out and gain all of it. See how much you can gain instead of limiting yourself. I still see skinny fat guys nowadays starting on 5×5 programs all the time and years into it they have built up their squat deadlift and bench to intermediate levels but still look like they don't lift. If your goal is to get muscular, why not train with higher volume and frequency if that brings more gains?
Be proud but stay hungry!
Oskar Faarkrog, ISSA Certified Personal Trainer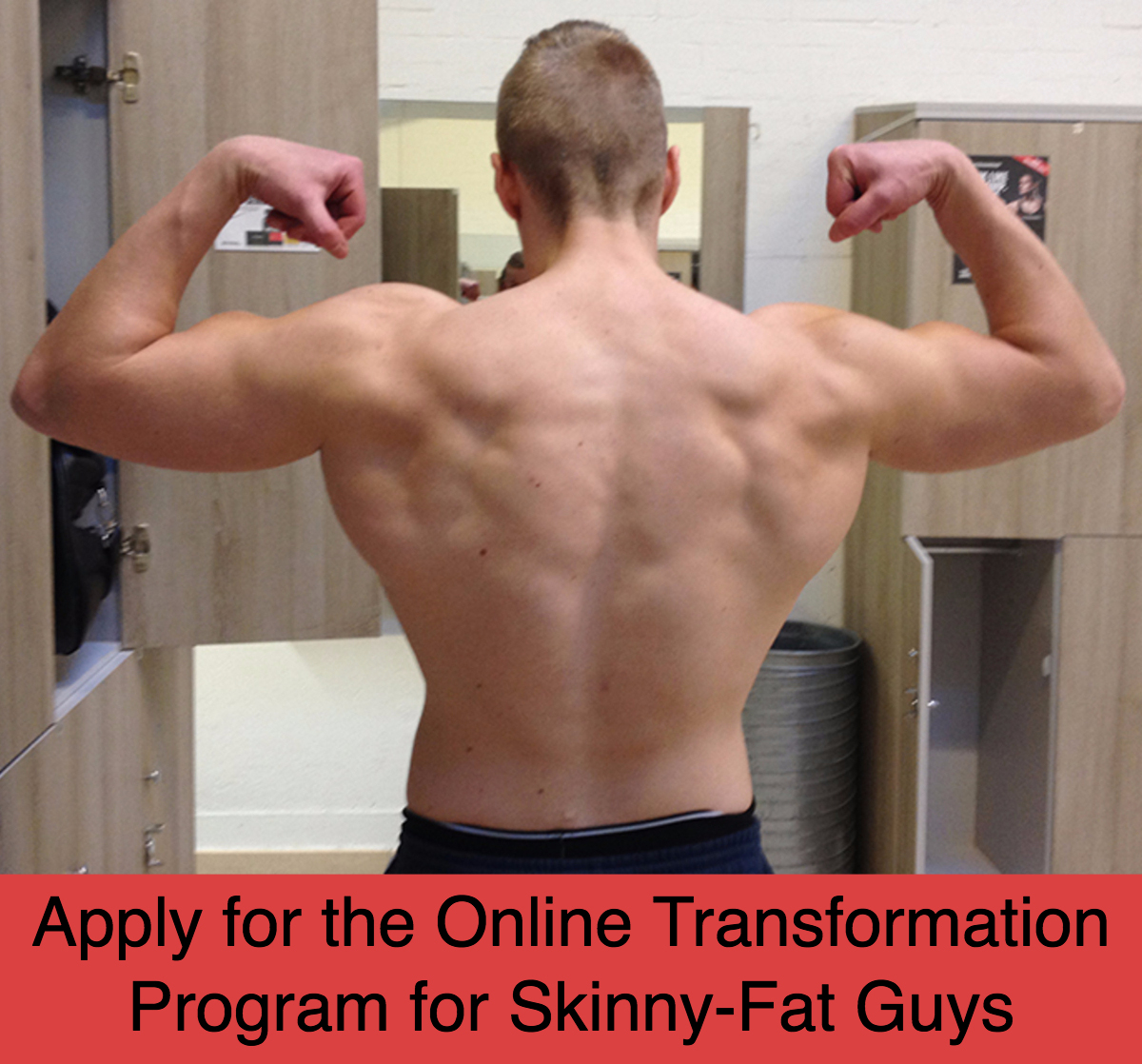 Read my free 50 page guide "The 2 Phases of a Skinny-Fat Transformation"