In the fitness industry there's this idea that if you are not losing body-fat, it's because you're either consuming too many Calories or miscalculating your food intake.
However, if that is really the case, then how do you explain guys who consistently diet on as little as 1500-2000 Calories a day with moderate activity levels, who still have love handles and man boobs?
Should they go lower to 1200 Calories which is "girl level Calories", starve themselves and ruin their hormonal profile further?
If you've been down the path of consistently lowering your Calories, you already know that the best case scenario is that you lose some weight and end up regaining all of it eventually.
And the worst case scenario is that you end up either not getting any results or you regain more fat than you started with.
So what should you do to overcome this problem?
The key is to focus on your hormonal profile and metabolism.
If you're dieting on very low Calories and not getting to anywhere near a lean state, it almost always means that you either have low free testosterone levels or hypothyroidism.
Until you correct these problems, you will NOT get a great physique regardless of how much you lower your Calories.
Unfortunately, changing your hormonal profile is a long-term process.
And changing your hormonal profile doesn't immediately lead to a better physique.
It just enables you to get the results you should have gotten.
With higher testosterone levels, you will be able to train longer and harder and recover faster.
You will also have better nutrient partitioning which means that excess Calories are more likely to be utilized for muscle gains rather than being stored as fat.
Then add to that, you will be burning more Calories at rest. When you combine that with a good diet, you will inevitably get leaner.
These combined lead to much better body-composition results. Less fat and more muscle mass.
To show you how this works, consider my own example.
I was diagnosed with low testosterone levels by an endocrinologist around age 18 back in 2010.
Both my total and free testosterone were at the bottom end of the range.
Essentially, I was walking around with the average testosterone production of an 84 year old man and honestly, my body looked like an 84 year old mans too.
I had puffy nipples, narrow shoulders and couldn't do even one push up or overhead press an EMPTY barbell at the gym.
I had in the past tried many things for losing body-fat.
I was actively swimming and playing soccer since being a kid but the body-fat just kept increasing.
Later, I got into heavy barbell training, cardio on the elliptical and a high protein diet with moderate Calories and I still didn't lose any body-fat.
I also found it hard to build upper body muscle mass and couldn't get rid of my body-fat no matter what I did.
We did every test imaginable from genetic testing to a brain MRI and no root cause was found.
This lead me to study the endocrine system on my own and learn everything I could about boosting testosterone levels naturally through training, diet and sleep optimization.
Over the next years, I managed to boost my testosterone levels with a total of 270% and it completely changed my body's response to training and diet.
I was able to train much harder and longer. I built up to train 2-3 hours a day, 4-6 days a week.
While doing this, I ate a huge amount of Calories and constantly felt hungry. Easily in excess of 4000 Calories a day. It felt like my body was absorbing the food like a sponge.
And my physique kept getting better and better.
I can tell you that during most of my transformation, I never counted Calories except a few times where I was curious and wanted to see how much I consume on a typical day. The number was around 4000-5000 Calories a day.
Does that mean that counting Calories is useless? Not at all.
Counting Calories is a great way for a beginner to set their foundation and dial in their diet as fast as possible. I have nearly all my Online Transformation Program clients count Calories in the first 3-6 months so we can dial in the diet and have concrete numbers to work with.
However, except for cases where someone is obese, the goal of counting Calories is NOT to lose weight.
With most of my skinny-fat clients, I have them count Calories and track food intake to make sure they eat ENOUGH to support hard training and muscle building and to ensure that they eat mostly QUALITY foods.
My experience is that most skinny-fat guys fall into 2 groups:
Those who have cycles of binge eating and cycles of starvation diets that are way too low in Calories for their weight and height. During the starvation cycles they lose the little muscle mass they have and slow down metabolism further. During the binge eating cycles they gain excess body-fat.
Those who consistently have a low appetite and under-eat because they're scared to gain body-fat.
Then there's a third, smaller group of naturally skinny-fat guys with a massive appetite who reached the obese stage through overeating.
In all of these cases, tracking food intake is the best way to get out of this problem, however in most cases the main goal should NOT be to lose weight. 
By putting yourself on a low Calorie diet, you will exacerbate the low testosterone and hypothyroidism problem.
The goal should be to optimize your hormonal profile.
That in the long-term will ENABLE you to get the results you should be getting from a fat loss diet and hard training regimen.
You can see "optimizing your hormonal profile" as compounded returns on an investment.
In the first 6 months, the visible return may not be that big, however as you get the compounding returns from your hormonal optimization (faster metabolism, faster training recovery), you start seeing a big acceleration in response to training and diet.
Be proud but stay hungry!
Oskar Faarkrog, ISSA Certified Personal Trainer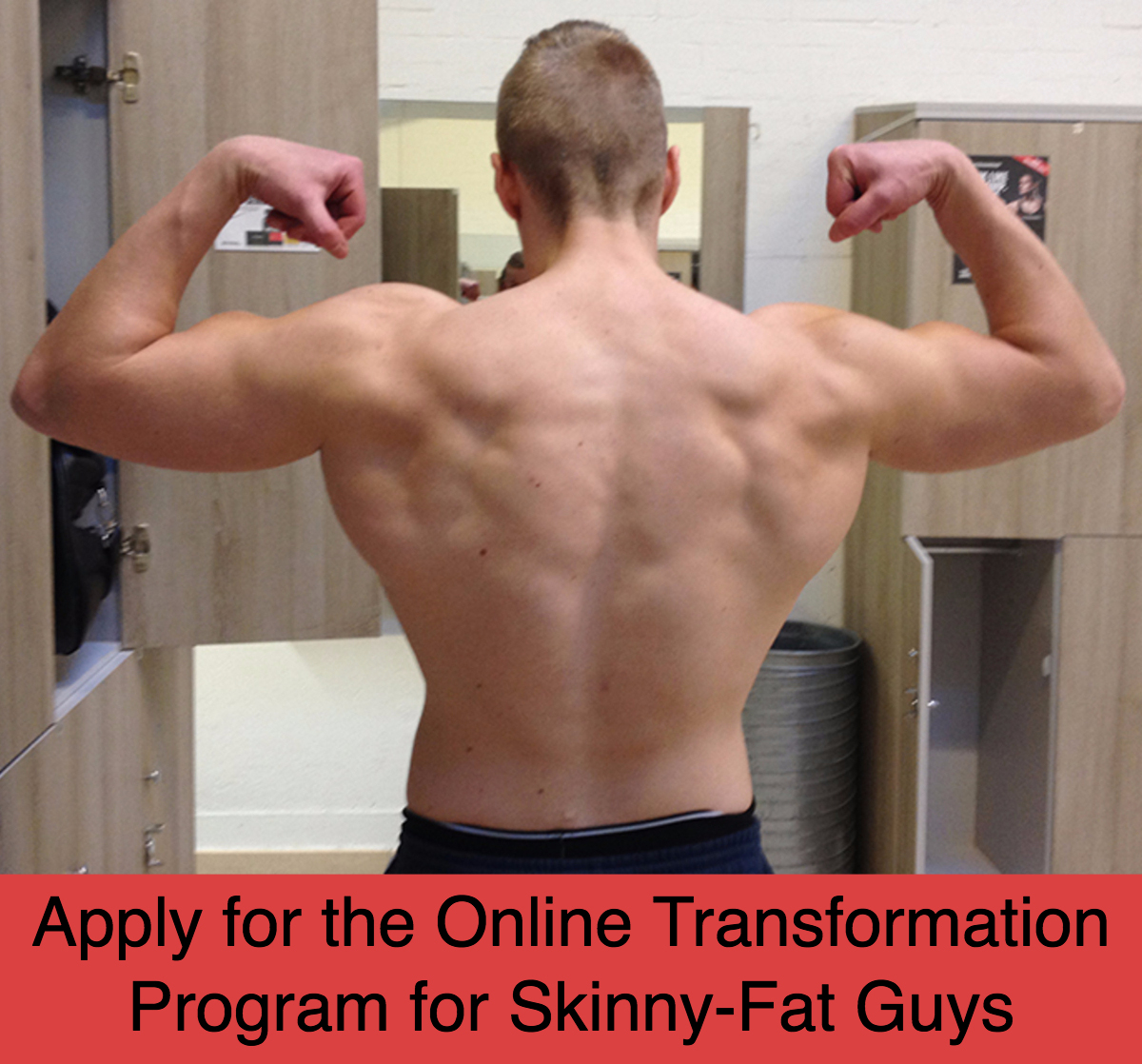 Read my free 50 page guide "The 2 Phases of a Skinny-Fat Transformation"