Recently, I started working with a skinny-fat guy who trained hard for 2 years, yet he had no strength base.
After 2 years of training he struggled completing 5 chin ups.
In his assessment form I looked at his training history and it was clear to me that he didn't follow a proper training program.
He just went to the gym 5 times per week and followed a 5-split bodybuilding program.
Each time he would train a variety of exercises until exhaustion, but he never focused on progressive overload.
He didn't push himself to do extra reps or more load on the big exercises.
As a result, his muscles had no reason to grow and his physique remained the same 2 years into training.
While I'm all about using angles, frequency, volume and drop-sets to increase your muscle mass, these things come later.
In the first 2-3 years of training, you need to focus on mastering the basic bodyweight exercises and then later build your strength base in the ~8-12 rep range on either weighted bodyweight exercises or weight training exercises.
Here are some good strength standards to aim for:
20 chin ups.
30-40 diamond push ups.
30-40 dips.
100-140 KG squat for 10 reps.
60-70 KG shoulder press for 10 reps.
30-40 KG one armed dumbbell rows for 10 reps.
You can achieve all these numbers within 1-3 years of hard training depending on your genetics, training, nutrition and recovery.
The key to get these numbers is to ALWAYS focus on progressive overload.
For example, if you did 60 KG on the shoulder press for 10 reps in your last training session, you want to try doing 62.5 KG or more in your next session.
If you continue doing a bit more each training session, you will eventually reach these numbers and build more muscle mass over time.
Just imagine going from a 15 KG shoulder press to a 60 KG shoulder press.
Your upper body will inevitably grow from the stimulus.
Doing more work over time is the driver behind muscle growth.
As a result, a proper training program must have a progressive overload strategy for at least a few key exercises (e.g. dumbbell row and shoulder press).
You can't just go in and wing your training sessions because then you will end up doing the same work-load over and over again… and see minimal changes in your musculature.
Your body naturally wants to stay in homeostasis where it's comfortable… and do the same thing over and over again.
If you don't give it that extra push each time you train, it will have no reason to change!
All the stuff I mentioned in previous posts about variety, angles, circuits, drop-sets and rest-pause sets comes AFTER you have built a solid foundation of strength.
Be proud but stay hungry!
Oskar Faarkrog, ISSA Certified Trainer
PS: Right NOW you have ~9 months to get in shape for the next summer. If you are interested in getting a full training program designed specifically for you with all exercises and progressions laid out and all the guesswork taken out of your training, then check out my Online Transformation Program. Let's make your transformation happen together.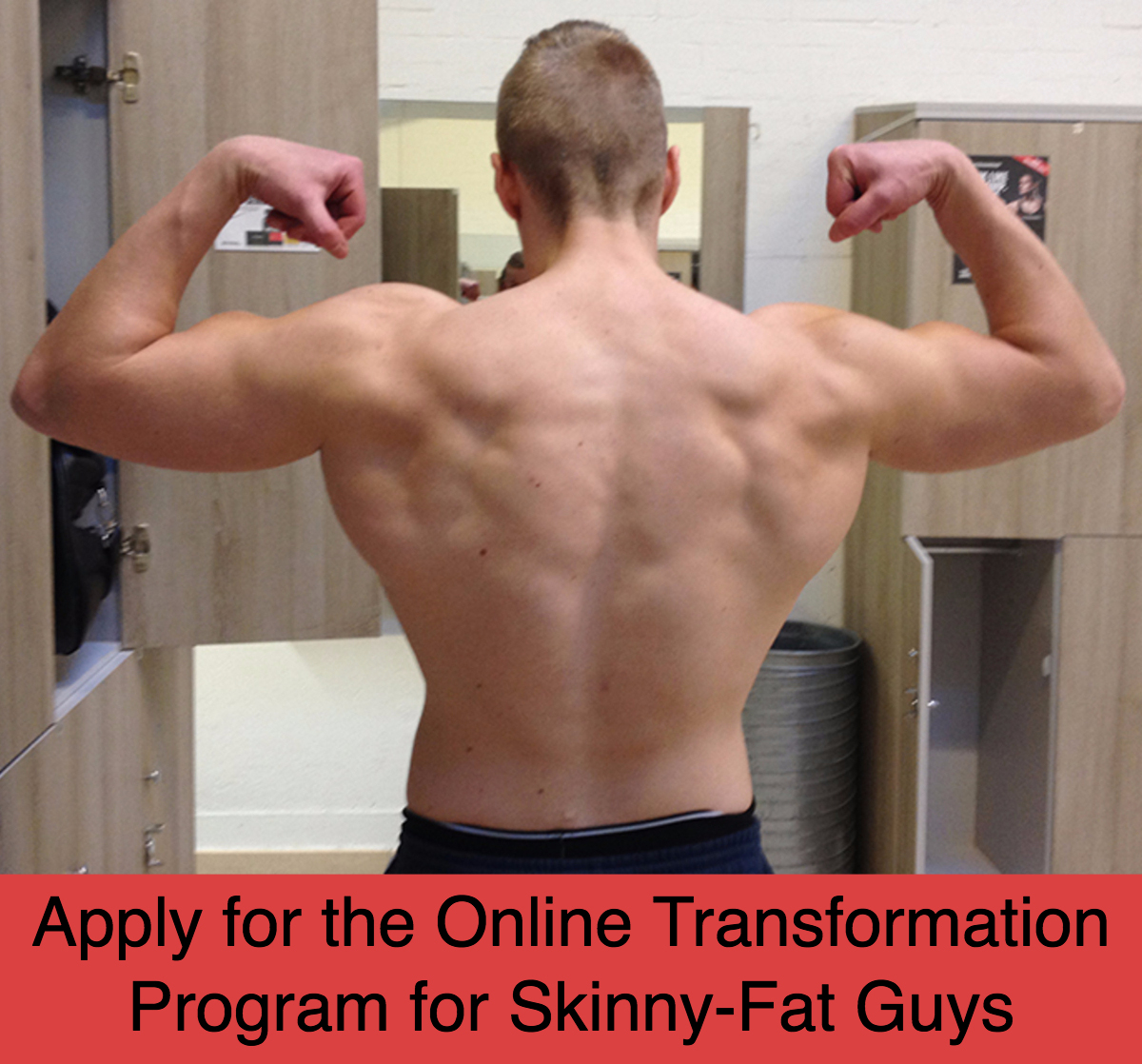 Read my free 50 page guide "The 2 Phases of a Skinny-Fat Transformation"