Most skinny-fat guys think that they will look like Brad Pitt in fight club after a cut, but that couldn't be further from the truth.
When you diet down to low body-fat levels you will lose a lot of water and fullness in your muscles.
This means that in order to look like Brad Pitt in fight club, you need to put on a good amount of muscle mass first.
If we assume Brad Pitt is 140 pounds in Fight Club, he would maybe be 170 pounds at healthy body-fat levels.
Look at the photo linked here.
This is the way most skinny-fat guys will look after a solid 10-20 week cut.
You will notice that my client in the photo doesn't have ripped abs and muscles that pop like Brad Pitt in fight club.
In my post The Price You Pay to Get a 6-Pack if You're Skinny-Fat, I explained why getting ripped abs is an unsustainable goal for the majority of skinny-fat guys.
It requires too a huge amount of effort with very little reward.
To reach that level of leanness most skinny-fat guys will have to fight through intolerable levels of hunger and that is not a sustainable approach to your physique transformation.
There are of course some exceptions like my client Francis who got good abs during his first cut, but I would be lying if I said this is a reasonable goal for the majority of skinny-fat guys.
As a result, the purpose of cutting is not to get abs.
It's to optimise your nutrient partitioning and hormonal balance.
At healthy body-fat levels your body is better at utilising food for muscle gains.
In addition, as I explained in my classic post The Secret Benefit of Getting Lean Before Bulking, you will optimise your natural testosterone production by reducing estrogen production.
This means that by getting lean first, you set yourself up for a much more effective bulk with an optimised muscle:fat gain ratio.
The problem is that a lot of skinny-fat guys make the mistake to stop their cut before it's completed.
Most often it's because you see yourself looking smaller in the mirror.
You see that your muscles are getting deflated and that you start looking skinny.
People may even comment on it and try to discourage you from cutting further.
This is nothing to worry about and now I'll outline why:
When you're skinny-fat all you have a smaller bone-structure and less muscle mass than the average guy who never trained. When you lose body-fat you will reveal your narrow shoulders and thin arms because all your size came from body-fat.
During a cut you eat less fats and carbs. Your muscles are able to store carbs and fats in their glycogen stores and intramuscular fat stores therefore your muscles will automatically deflate by 0.5-1 inch when you lower fat and carb intake.

As soon as you increase your food intake after a cut, you regain that lost size.
When you combine 1 + 2 you will understand why you're getting smaller and why it's an acceptable trade-off.
You're trading getting smaller for a few months with the reward of getting a lean and muscular physique in the future.
Be proud but stay hungry!
Oskar Faarkrog, ISSA Certified Trainer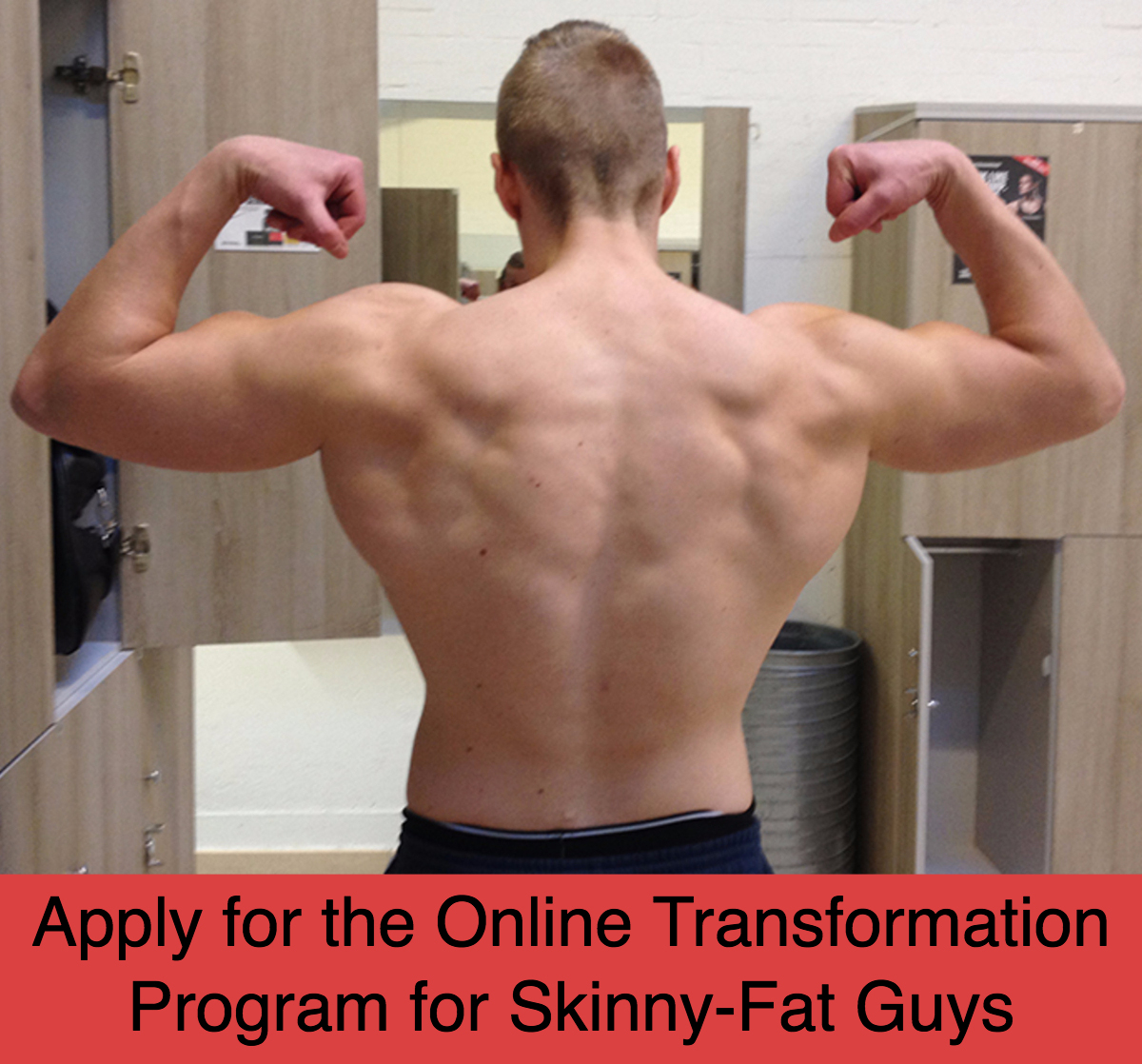 Read my free 50 page guide "The 2 Phases of a Skinny-Fat Transformation"