In my last post Why You Shouldn't Get Ripped 6-Pack Abs If You're Skinny-Fat I explained how shredding excess body-fat does not mean getting ripped 6-pack abs and why you're leaving a lot of muscle development on the table by obsessing about your abs.
The conclusion of the post was: You need to find that happy medium where you're lean enough to see some ab definition, but not so lean that it affects your health and performance negatively.
I like to call this level of leanness your sustainable level of leanness.
This is the level of leanness where you have high energy levels, great training sessions, a high natural testosterone production and healthy sex drive.
You don't have excessive food cravings and you don't experience intolerable levels of hunger.
Overall, you feel your best in your daily life and you training performance is optimised.
You can sustain this level of leanness for years as long as you follow a good training program and nutrition plan.
The next question is: How lean can you get if you're skinny-fat and you're doing everything the right way?
The truth here is: There will be a lot of individual variation here – even when considering just skinny-fat guys.
I've coached over 100 guys with the vast majority being skinny-fat, and I've seen that the your sustainable level of leanness is largely determined by how much body-fat you carry during puberty and where you store your body. 
The body-fat you carry during puberty determines how many fat cells you have.
Fat cells are like balloons that can get filled up with air.
Whenever you eat a lot of food, they're ready to get filled up and make you fat.
Skinny-fat guys who go through puberty (age 12-16) with high body-fat levels, have a much higher level of fat cells and these fat cells remain permanent.
You can shrink your existing fat cells in size by losing fat, however you cannot reduce the quantity of them.
In contrast, those of you who stayed lean during puberty and became skinny-fat after age 16-17, don't have all those fat cells.
As a result, the amount of body-fat you carry throughout puberty has a big effect on your sustainable level of leanness.
Skinny-fat guys with a high amount of fat cells will generally find they feel better at slightly higher body-fat levels.
An extreme example of someone with a very low amount of fat cells is your friend who has never followed a diet, yet walks around with ripped 6-pack abs year around.
This friend would be considered genetically gifted for bodybuilding and fitness modelling.
Because of his naturally lower body-fat percentage, he doesn't need to go hungry on a daily basis or train for hours each day to achieve his abs.
He has them naturally by default.
Another good example would be found in model girls that are naturally skinny.
If you've ever dated a girl who has a naturally skinny model body without any diet or exercise whatsoever and her mom is skinny going well into her 40s or 50s, then you know what I'm talking about.
I've dated several models with perfect bodies and proportions who don't have an ounce of fat on their body and never exercised or followed a diet.
They can party, drink massive amounts of alcohol, eat junkfood and still maintain a perfect figure.
This my friend is the result of having a low amount of fat cells. 
People who are naturally lean play another game than you, therefore don't use their physique as an indicator of how YOU can look.
And while the model and 6-pack abs example is extreme, it should tell you something:
Don't compare yourself to other people – even if they looked similar to you when they started.
Also, keep in mind that in 99% of cases when you see a great body-transformation of someone who goes from fat to ripped with 6-pack abs, it's one of two scenarios:
A guy who was fat in early puberty (age 11-13), then started lifting and killed his fat cells before it was too late.
A guy who was naturally lean his whole life, then became fat around age 18-20 or later.
In both cases, these guys can have a low-moderate amount of fat cells.
It's very rare to see a guy who was fat or skinny-fat until puberty ended and thereby has a large amount of fat cells who managed to achieve permanent 6-pack abs year around.
In most cases, this is because that guy sacrifices his health and overall well-being to maintain that look.
Therefore, you can't just look at a before/after photo and then think this is what YOU can get.
You need the full picture to know what is realistic for YOU.
The other thing to keep in mind is your natural body-fat distribution.
You will sometimes see skinny-fat and fat guys who diet down and end up with a pretty good 6-pack.
Other times you will see similar guys who diet down and end up with a flat waist and no visible abs.
In other words, you can have two similar guys diet down to the same body-fat level, however one will get a 6-pack while the other just has a flat waist.
A good example of this is Arnold Schwarzenegger during contest.
He never had full 6-pack abs despite being in ripped contest shape.
The reason is that all of us distribute and lose fat in different places.
In my case, I store my last body-fat in my hips, lower waist and love handle region.
When I diet down, I start losing most of my fat on my chest, arms, back, shoulders and so on.
It's only when I start looking like a starved skeleton that the fat in the hips and lower waist starts to go.
This is unfortunately the way most skinny-fat guys distribute body-fat.
We store most of it on the love handles and lower waist.
This is the last fat to go and by the time our body starts losing that last fat there, we will have lost a lot of lean muscle mass in the process.
Why am I telling you all of this?
Because I don't want you to waste your time and health dieting down to very low body-fat levels when you could spend that time building up your muscles.
Instead of going so low in body-fat, aim for achieving a flat waist with a visible ab outline on the top abs.
Here's a good example of me achieving my sustainable level of leanness:
This is the level of leanness that +90% of guys can achieve on a great training program and diet plan regardless of how bad their genetics are.
And if you can get lower in body-fat while feeling great, then take that as a bonus.
A good example of a skinny-fat guy who got a good set of abs is my client Francis:
As you can see, after just 10 weeks of my coaching he's already more ripped than me after 3 years.
Most skinny-fat guys will be able to get somewhere close to my level of leanness and a small minority will reach Francis' level and even beyond.
Be proud but stay hungry!
Oskar Faarkrog, ISSA Certified Trainer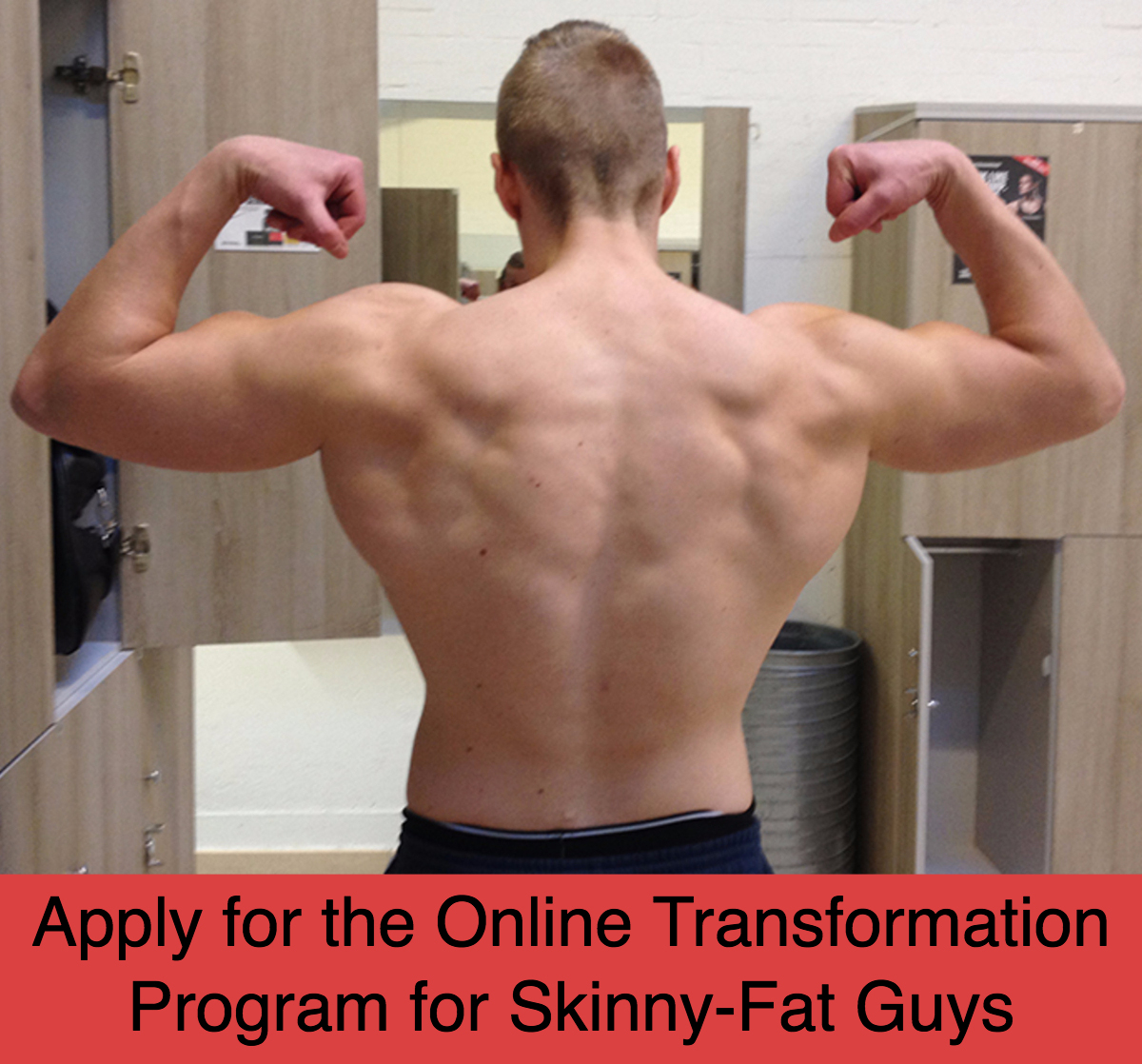 Read my free 50 page guide "The 2 Phases of a Skinny-Fat Transformation"