Yesterday I got a comment on the SFT blog from a reader who said he appreciates my content but that he doesn't agree with my advice on not using weight training for skinny-fat guys.
First and foremost, with my clients I use a variety of weighted exercise with the primary ones being weighted pull ups, dips and squats. 
But only after they've built a strong base on the basic bodyweight exercises. (Around 12 wide grip pull ups, 20-30 diamond push ups and 100 squats with perfect form).
It makes sense to learn how to move your own body through space before working with external weights.
Most skinny-fat guys are skinny-fat partly because of their lifestyle which included lots of sitting and minimal exercise.
They lack the basic mobility to even perform barbell movements such as the squat and deadlift safely.
You can't just take someone who has a messed up hormonal balance and sat down for 20 years straight with minimal movement and have them do back squats and deadlifts.
The alternative of starting with machines or cables doesn't make much sense either since these exercises work best as assistance exercises for someone who already has a base of strength and muscle.
Variations of bodyweight exercisers provide the perfect middle ground.
You have the compound movement that gradually improves your whole body's athleticism, muscularity and overall strength while being extremely safe.
Basic bodyweight exercises have much lower injury rates compared to basic barbell training.
To see this, you can simply go to any calisthenics forum and compare the amount of injury threads with a barbell training forum such as starting strength or stronglifts 5×5.
I often have clients start with just hanging on the pull up bar for time and doing wall push ups.
Later we work on weighted pull ups, dips and squats. (Some can't do dips due to a different sternum structure so we use an alternative exercise in those cases). That's the kind of guys I usually get in shape.
As for heavy barbell programs, I have never seen a true skinny-fat transformation from these programs.
It's well known that exercises that move your body through space such as pull ups, squats, dips and power cleans provide a superior training effect compared to exercises that don't.
With the typical weight training exercises for the upper body (variations of the bench press, row and shoulder press) the body doesn't move through space.
And with the deadlift and squat it does, but those are for the lower body (an area that most skinny-fat guys don't really want to focus on as much since their hormonal balance makes it extremely hard to gain upper body mass — most androgen receptors are located in the upper chest, traps and shoulders).
You can go to any calisthenics workout place and look at any guys who do muscle ups etc and you'll see incredible development in the lats, chest, arms, shoulders.
Gymnasts are pound for pound the most versatile and most muscular athletes and calisthenics is based on basic gymnastics.
As for powerlifters and olympic lifters.
The average competitive powerlifter doesn't look that great.
Usually lots of body-fat and a disproportionally large lower body with an average/slightly above average muscularity in the upper body.
The few powerlifters who look great have exceptional genetics and they would have achieved the same type of physique with almost any type of resistance training.
In 10 years of going to different gyms all over the world in America, Asia and Europe, it's very rare that I've seen someone train the powerlifting exercises hard while having incredible development.
Olympic lifters look great, but only in the lower weight classes. In the highest weight classes they look fat with a huge gut. (The added fat enables them to gain additional strength and muscle which gives them an advantage in the highest weight class).
Also keep in mind that nearly all olympic power athletes have elite genetics and take anabolics therefore even if they lost the fat their level of muscularity is not realistic for most of us.
With all that said, I believe weight training is crucial if you want to reach maximum development.
There are certain muscles that are hard to grow with bodyweight exercises but this only becomes a pressing issue once you have built a solid foundation of strength and mobility.
You need to be able to squat all the way down ass to grass with your heels planted on the floor (barefoot) and your back straight to have sufficient mobility to perform weighted squats and deadlifts.
You need to be able to at least do 12-15 pull ups with good form before you even consider adding back exercises such as the barbell or machine row.
It doesn't make any sense to put someone that lacks basic strength and mobility on a barbell program.
It's only going to make matters worse when you load the spine, hips, shoulders and knees in a bad position.
Therefore, the solution is the one I've presented since the beginning (the 2 phases of a skinny-fat transformation).
Start mastering bodyweight first, then add weight training to sculpt the body later.
Be proud but stay hungry!
Oskar Faarkrog, ISSA Certified Trainer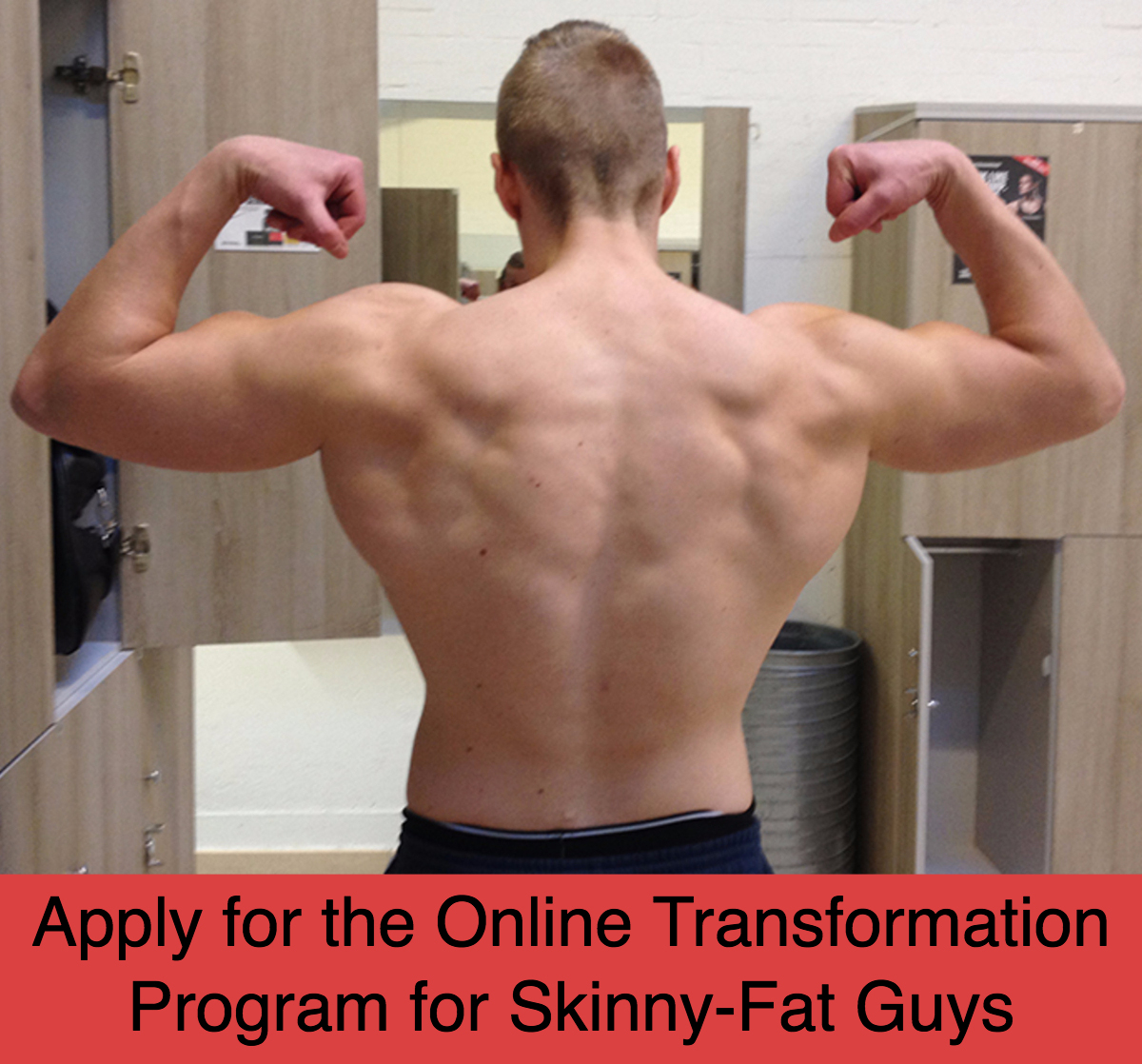 Read my free 30 page guide "The 2 Phases of a Skinny-Fat Transformation"