Want to get into the best shape of your life before next Summer? Then check out my Online Transformation Program
---
Today I got a question from a skinny-fat guy who wants to lose weight:
"Sir i needto know what type of weight loss strategy do you recommend for a skinny fast guy with puffy nipples, a regular slow cardio or a high intensity running?"
The main problem with this question is that he assumes that adding the right type of cardio is going to help him lost weight.
Below, I'll prove to you why adding cardio is an ineffective strategy for losing weight when compared to cleaning up your diet.
First, let's make one thing clear: The main driver behind weight loss is a negative energy balance.
If you want to lose weight, you need to be in a Caloric deficit.
For example, if you eat 3000 Calories in a day, you will need to expend MORE than 3000 Calories throughout the day to lose weight.
Expending more Calories than you consume is the most important factor for weight loss and everything else is secondary.
For +90% of people reading this, the most effective option is to consume less Calories by making better food choices. 
Unless you are a pro athlete training 4 hours per day, making better food choices has a much bigger impact on your energy balance than cardio.
Just think about this example: You can run for 60 minutes and burn 500-600 Calories or you can replace 2 snickers bars with an orange.
Both things will cut Calories with 500-600 but replacing the snickers bars with an orange requires much less effort.
Most of you can make a few "big moves" in your diet and get the same result as running for 1 hour everyday.
Here are some examples of big diet moves:
Replace fatty meats and fish with lean cuts.
Replace bread and pasta with boiled potatoes since they provide the highest amount of satiety per Calorie.
Replace all refined sugar (candy bars etc.) with fruits.
Replace milk chocolate with dark chocolate. (Dark chocolate provides more satiety).
Use 2 tbsp of oil when stir-frying meat or fish instead of 5 tbsp of oil.
If you were to make all these diet moves, you would automatically cut your daily Caloric intake by more than 50% and start losing body-fat right away.
Doing these big diet moves is easy because you are simply replacing low satiety foods with high satiety foods.
A diet that is rich in high satiety foods is key to long-term sustainable fat loss because it minimizes the amount of willpower you need to get lean and stay lean.
It's extremely hard to overeat on lean chicken breast, boiled potatoes, apples and spinach.
As a result, filling your diet with foods that are high in satiety makes fat loss almost effortless!
There's only one downside to eating a lot of high satiety foods and that is taste.
The truth is that clean food does not taste amazing.
The great taste in delicious meals comes from a high fat content, refined sugar and/or excessive salt.
Refined sugar and salt are addictive and thereby make you want to eat more than your body needs.
And fat is calorically dense (9 Calories per gram compared to 4 Calories per gram in protein and carbs) which makes it easy to overeat on.
Most high satiety foods are low in fat and salt and have no refined sugar.
As a result, they don't taste great, but they provide you with a lot of satiety for the Calories you consume.
In other words, when you want to lose body-fat you are sacrificing taste for better health, higher energy levels, better mental focus and fat loss.
You are looking better, feeling better and getting more hours out of each day because you choose healthy food that tastes OK over food that tastes amazing but makes you feel and look like crap.
The key here is to set up your diet in such a way that you are getting JUST ENOUGH taste from salt, sugar and fat to make the diet sustainable and enjoyable while keeping most of your food consumption to high satiety foods. (The diet section in the SKINNY-FAT TRANSFORMATION Bodyweight Program will show you exactly how to do that).
You want to use that extra energy you get from a clean diet on sculpting your body with resistance training.
Similarly to diet vs. cardio, resistance training provides a higher return-on-investment because:
It sculpts your body so you don't end up like a smaller version of your current skinny-fat physique. Instead, you will get smaller but with muscle tone.
More muscle mass increases your metabolism so you burn more fat at rest. This means that 1-2 years down the line you may be able to get away with an extra 1-2 meals per day while staying lean.
It improves your proportions by making your upper body wider and thicker. This will make your waist and hips look smaller.
And many other benefits…
To keep it short and simple, resistance training + clean diet will get you a ripped and toned physique while cardio + a low food intake will just make you a smaller version of your current skinny-fat self.
As a result, if you are like most people who follow a poor diet and you have ~1 hour per day to train, then you want to focus on cleaning up your diet and follow a good resistance training program first.
Once your resistance training and diet are dialled in, you can add cardio to improve your circulation, digestion, resting heart rate and to burn some extra Calories.
For physique transformation goals, resistance training and diet are always KING while cardio and supplements are "extras".
Be proud but stay hungry!
Oskar Faarkrog, ISSA Certified Trainer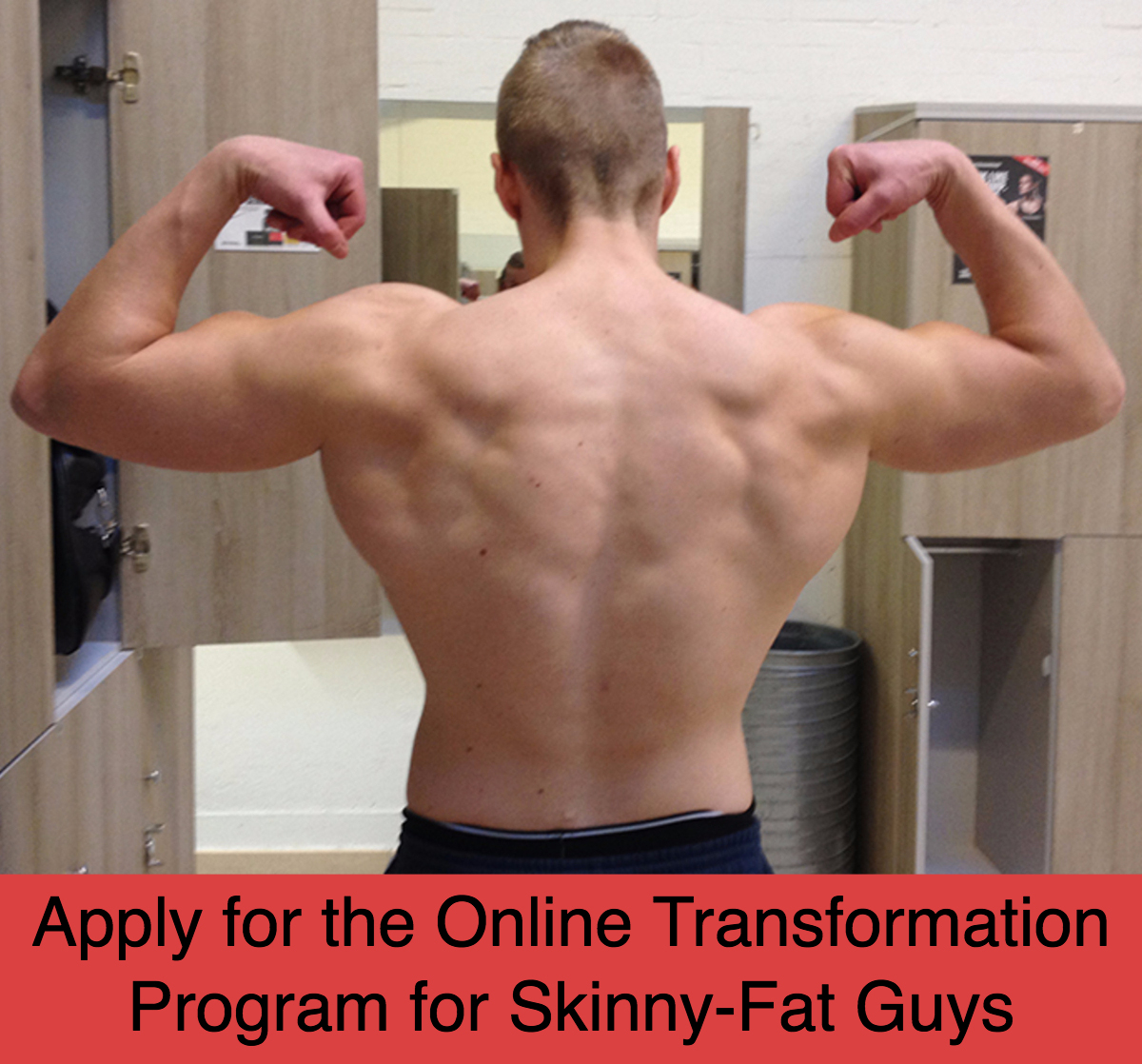 Read my free 50 page guide "The 2 Phases of a Skinny-Fat Transformation"