I recently answered some questions for an article about bulking so I'll share my answers with you guys here.
How much does the type of food matter during a bulk, vs the macronutrients?
While Calories are king, it's also important to make sure that most of your Calories consist of high quality, nutritious foods.
Here are some reasons for that:
Training recovery: When most of your Calories come from nutritious foods you recover much faster between training sessions. This means you can train harder, longer and more often.
Hormonal response and nutrient partitioning: Your body has a different hormonal and metabolic response to different foods. For example, you can put together 2 meals that have an identical macronutrient profile but one meal consists of chips, whey protein powder and milk while the other meal consists of salmon, boiled potatoes and extra virgin olive oil. When eaten on a daily basis, which type of meal do you think will create the best hormonal and metabolic environment for building muscle mass while staying lean? Generally speaking, if you want to maximize your body's muscle building hormones and metabolism, you want to eat mostly high quality, nutritious foods.
Health: If you're a bodybuilder, you will have to train for years and go through many bulking cycles to build an impressive physique and you will be at a much higher bodyweight than the average guy. Training hard, overeating (this is essentially what you do during bulking) and being 20-30 pounds heavier than you're supposed to be puts a lot of stress on your body. When you add a diet that's full of inflammatory foods, many bad things happen: 1) The stress on your body increases further, 2) Blood flow decreases, 3) Training recovery decrease, 4) Risk of overtraining becomes much higher and 5) You will gain more body-fat during your bulks. If you follow this lifestyle from the time you're in your teens or twenties, you may develop high blood pressure and heart problems by the time you're 40-50 years old.
Skin and facial bloating: Another issue that bodybuilders often have is acne and facial bloating. When you're in a Caloric surplus, your body is much more prone to produce acne because it's those inflammatory excess Calories in your body that create inflammation (acne) on your skin. The solution here is to eat foods that are not inflammatory (generally all high quality, nutritious foods) and eat lots of green leafy vegetables. Similarly, when you consume a lot of sodium through low quality foods and neglect your fruits and veggies, your face retains a lot of water so you have both bloating and acne. This takes away from all the hard work you put into your body.
Taste-buds: When you eat salty, sweet and fat foods day in day out your body get's used to them and you will find it very hard to stop eating them once you start your cut. In other words, by eating low quality foods during your bulk, you set yourself up for a longer and much harder cut that's more likely to fail. You will also lose more of your hard-earned muscle mass during the cutting process because the longer you cut, the more muscle mass you generally lose.
So the real answer is: You need to both dial in your macronutrients and make sure that most of your diet consists of high quality foods.
This doesn't mean that you need to eat perfectly clean, however a good rule of thumb is that roughly 70-80% of your Calories during bulking must be from high quality, nutritious foods and the remaining 20-30% can be used to fill up with foods that are more paletable so you will find it easier to put yourself into that Caloric surplus.
Did you experience a significant boost to your resistance training ability during the bulk?
Yes, when you eat right during your bulk you can train hard pretty much everyday.
How did you determine the duration of the bulk?
A good rule of thumb is to start lean (at minimum a visible ab outline in good lighting) and measure your waist and hips every week. When your waist or hips increase by roughly 2-3 inches, you scale back the Calories and do a mini-cut. This usually means that your By doing so, you will never have to cut for more than 2-3 weeks and you can stay lean all year while gaining muscle mass.
How do you know when to stop?
As explained above, I use measurements as guidelines since numbers don't lie. (It can be easy to trick yourself when looking in the mirror because lighting makes a huge difference).
The other method you can use is to supplement the numbers with weekly photos. When you start seeing your ab outline disappearing you scale back the Calories and do a mini cut.
-How should your diet change during a cut?
This will depend on the individual.
Generally speaking, the foods will be the same. The only difference is that the portion sizes will be lower during cutting (less Calories).
With that said, if you're a guy with a naturally high appetite, you always want to choose foods that have a high satiety index while guys with a naturally low appetite can get away with mostly moderate satiety index foods.
A good example is the difference between white rice and boiled potatoes.
Both are excellent carb sources but boiled potatoes have a much higher satiety index than white rice which means that given that Calories are equal, the white potatoes fill you up for a much longer time.
This is why I advise all my clients with a naturally high appetite to eat foods that have a high satiety index during both bulking and cutting.
What's the advantage to short-period bulking and cutting cycles?
You gain muscle mass while staying lean year around, you never have to go through long cutting periods where you feel intolerable levels of hunger, you retain more muscle mass during cuts and psychologically it's a pleasure to switch between short periods of overfeeding and short periods of underfeeding.
How difficult was it to shed fat during the cutting phase?
Shedding fat is difficult the first time you have do it because if you're a guy with 30-60 pounds to lose it means you're looking at 4-12 months of fat loss dieting.
In addition, when you start out and you have a low amount of muscle mass, your metabolism is much slower than it could be because muscle mass is metabolically precious.
This means you will have to eat less Calories to get lean compared to the guy who has lifted for years.
However, once you've built up a good foundation of muscle mass and you have to do a short 2-3 week cutting cycle to get back to your lean base, it's almost effortless to complete the cut. The cut feels like a nice break from all the overfeeding you did during the bulk.
What's the hardest part about bulking and cutting?
It's the diet.
Following a good diet is expensive for most people.
It's time-consuming (and boring) to prepare all your meals.
It's boring to eat high quality, nutritious foods because they're by default much less paletable compared to unhealthy foods.
It's time-consuming to sit down and eat a big portion of lean chicken, boiled potatoes, leafy green veggies and fruit. If you eat 3 times per day and you train hard, a typical bodybuilding meal can take 30-45 minutes to finish compared to just 10-15 minutes for a regular meal.
But the end result is that you can train much harder, longer and more often, your skin looks a lot better and your physique transforms at a much faster rate.
One good diet tip I have for people is to find a way to have someone take care of the meal prep for you. Hire someone to prepare your meals or use a clean food delivery service to get all your meals.
When you get all your meals prepared by someone else, you can use that time and energy to focus on your training instead.
Or you can find a food delivery company to do the meals for you.
Here's a video of 1 day of eating for me:

All my meals are prepped by a food delivery company and they cost me around 1200 USD per month here in Bangkok.
If I had to make those meals myself I would probably still need to spend 700-800 USD per month on food.
So as you can see, bulking the right way can be expensive for some people but the more you put into your diet/training, the more you get out of it.
If you want to get a custom diet/training plan, be sure to apply for the Online Transformation Program For Skinny-Fat Guys.
Be proud but stay hungry!
Oskar Faarkrog, ISSA Certified Trainer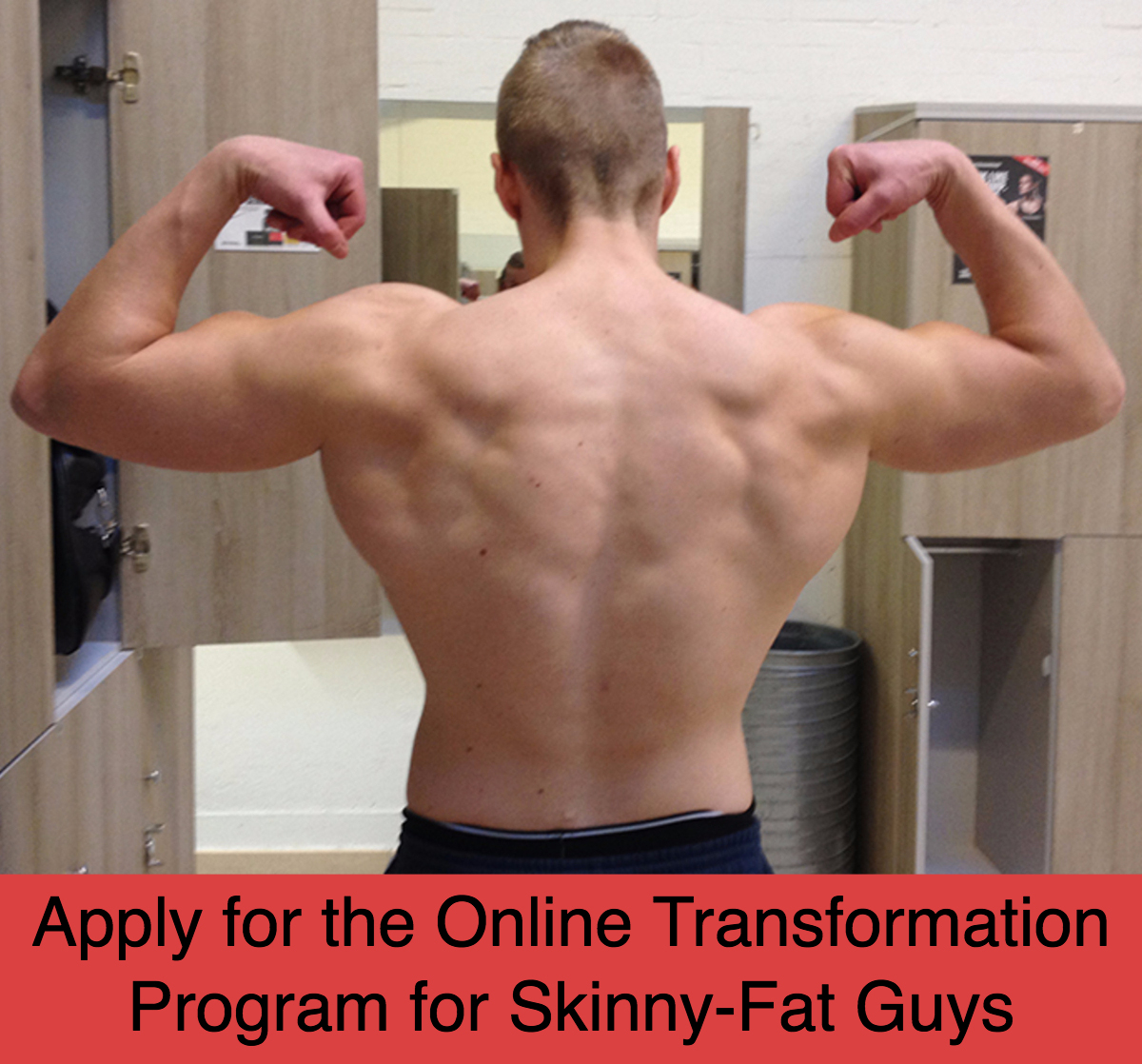 Read my free 50 page guide "The 2 Phases of a Skinny-Fat Transformation"