To become aesthetic the goal should be to get an X-shaped body; strong legs, small waist and wide shoulders. A skinny-fat guy typically has wide hips and waist combined with narrow shoulders.
To fight the skinny-fat sufferers natural shape, it's vital to develop:
the lats and shoulders

 to maximise upper body width

upper chest

to create a squared looking masculine chest

arms

to complete the upper body look

legs

just to the right amount of size to keep them in proportion
To do that I have developed a minimalistic approach that consists of 3 bodyweight exercises.
The main reason why this minimalistic approach works for a skinny-fat guy is: less training stress.
As a skinny-fat guy you have a small bone-structure (small wrists, ankles and neck), therefore your body recovers slower between training sessions when compared to a guy who has a bigger frame.
By adding too many exercises you will slow down your recovery between training sessions and thereby you will find it difficult to:
Train often enough to stimulate optimal muscle gains.
Progress on the exercises that matter the most. (In this case the diamond push up, chin up and squat).
In other words, a complicated program with too many exercises will detract from your ability to gain muscle mass.
Furthermore, I prefer bodyweight training because to be good at bodyweight exercises you cannot be skinny-fat.
You need to be lean and muscular to be able to do 15 chin ups and 30 diamond push ups.
During the past year I've used 3 exercises 90 % of the time, and made better progress than I did in 2 years at the gym.
1) Chin Ups to get a Wide Upper Body
If I could choose to do ONE exercise, it would be the chin up. The chin up builds a wide back, muscular biceps and forearms. Additionally, if you do chin ups with a high volume and frequency the rear shoulder will grow.
Here's my 3 year back and biceps progress as a result of getting strong at chin ups:
Beginning:
Now:
As you can see, I built an elite level back with chin ups and my clients are on their way to do the same thing.
The back is the most underrated muscle group because the lats specifically are the largest muscle group on your entire upper body.
When you develop them to their potential, you make yourself appear wide from both the back and front.
Here's my front progress picture to show the difference well-developed lats make: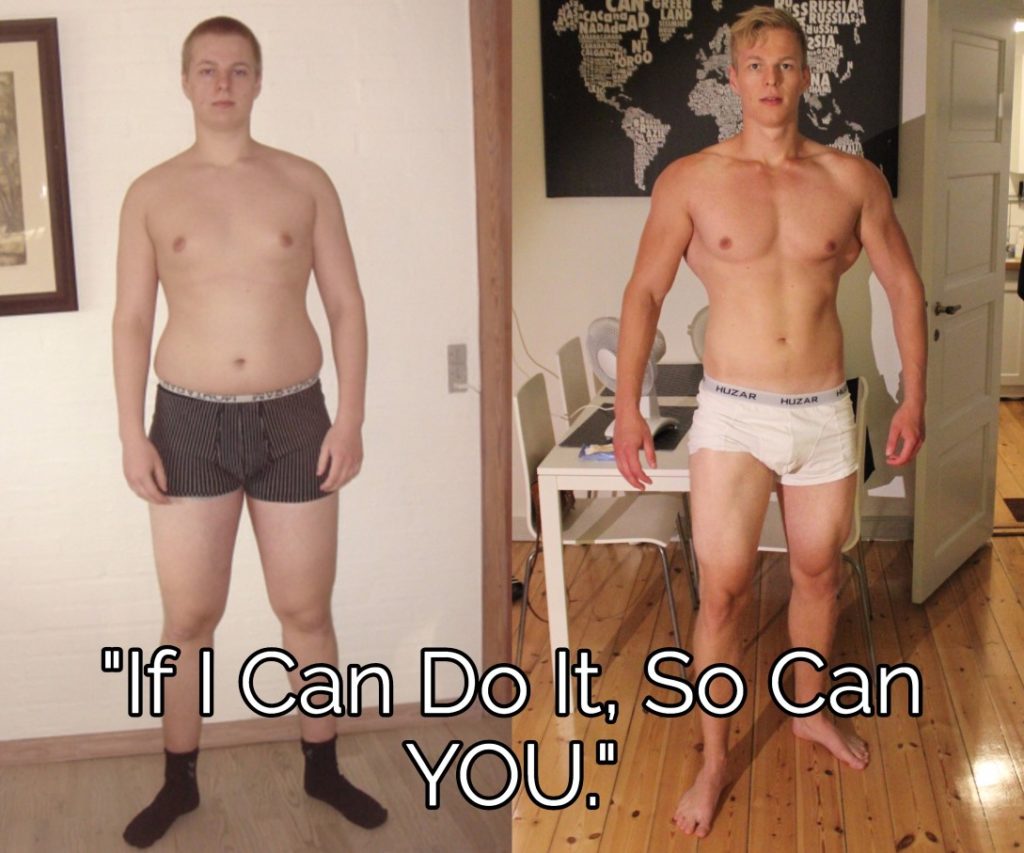 And here's my full transformation video showing my progress month-by-month:
As you can see from the picture and video above, the lats made all the difference to my proportions.
If I hadn't developed my lats, I would still have a pear-shaped physique instead of a great V-taper with a large shoulder-to-waist ratio.
2) Diamond Push Ups for Upper Chest, Triceps and Shoulders  
The diamond push up targets your triceps, upper chest and shoulders. To do a diamond push up, you simply get into a regular push up position; however you put your hands close to each other, so they resemble the shape of a diamond.
Most skinny-fat guys have crappy chest genetics. The upper chest is almost non-existent while the lower chest is either soft or overdeveloped. This gives a feminine appearance to the chest rather than a full masculine chest.
Therefore, the "trick" is to do the opposite and focus exclusively on training the upper chest.
By doing so you will improve your chest proportions greatly!
And the diamond push up is the perfect exercise for that since it activates the upper and inner part of the chest.
I cover upper chest training in more detail in my free training video How to Train Your Chest If You Have Puffy Nipples or Gynecomastia:
Second, the diamond push up has the highest triceps activation of any exercise out there and contrary to popular belief of arms being all about biceps, the triceps actually make up 2/3 of your arm size.
So when you master diamond push ups you don't only see a massive improvement in your chest, but also your arm size.
When you combine the diamond push up and chin up, you have the perfect combination of upper body exercises because you're increasing your shoulder measurement, maximising arm size and sculpting the chest the right way.
These two exercises train all the most important muscle groups for skinny-fat guys:
Chin Up: Lats, upper back, biceps.
Diamond Push Up: Upper chest, shoulders, triceps.
In addition to that, these two exercises represent the two fundamental upper body movement patterns: pushing (diamond push up) and pulling (chin up), therefore they have great carry over for any athletic endeavours.
Together, the diamond push up and chin up are what I consider to be the most powerful combination for building a muscular upper body.
3) Squats for Legs
The bodyweight squat is extremely underrated because it's seen as an "easy exercise".
But if it's that easy, try doing 100 bodyweight squats in a row with your ass  nearly touching the ground on each rep.
Chances are that you lack the mobility to go all the way down on each rep and you lack the conditioning to do over 50 good reps.
As a result, the bodyweight squat is a great mobility and conditioning exercise for the skinny-fat guy.
It achieves the triple purpose of giving you an effective conditioning workout,  improving your mobility and building just the right amount of muscle mass on your lower body.
I emphasise building the right amount of muscle mass on your lower body, because as a skinny-fat guy who trains without performance enhancing drugs and with naturally low testosterone levels, your lower body will always grow at a much faster rate than your upper body.
When your lower body grows too much from heavy squats and heavy deadlifts, your upper body by default appears much smaller, therefore you have to keep lower body training to "just the right amount" instead of pounding it with high volume and heavy weights.
The starting goals I usually aim for with my Online Transformation Program Clients are 15 chin ups, 30 diamond push ups and 100 bodyweight squats – all done in one set.
When you reach these numbers you will no longer appear skinny-fat and you'll have better fitness levels than +95% of the population.
As mentioned earlier, I have over 100 success stories on my success stories page for proof that bodyweight training does in fact work for the skinny-fat body-type and these are just some of the success stories I have. (The page is now so big that I'm unable to edit it and put more success stories).
Depending on your starting point, these goals are usually reached within 3-12 months of good training.
Be proud but stay hungry!
Oskar Faarkrog, ISSA Certified Trainer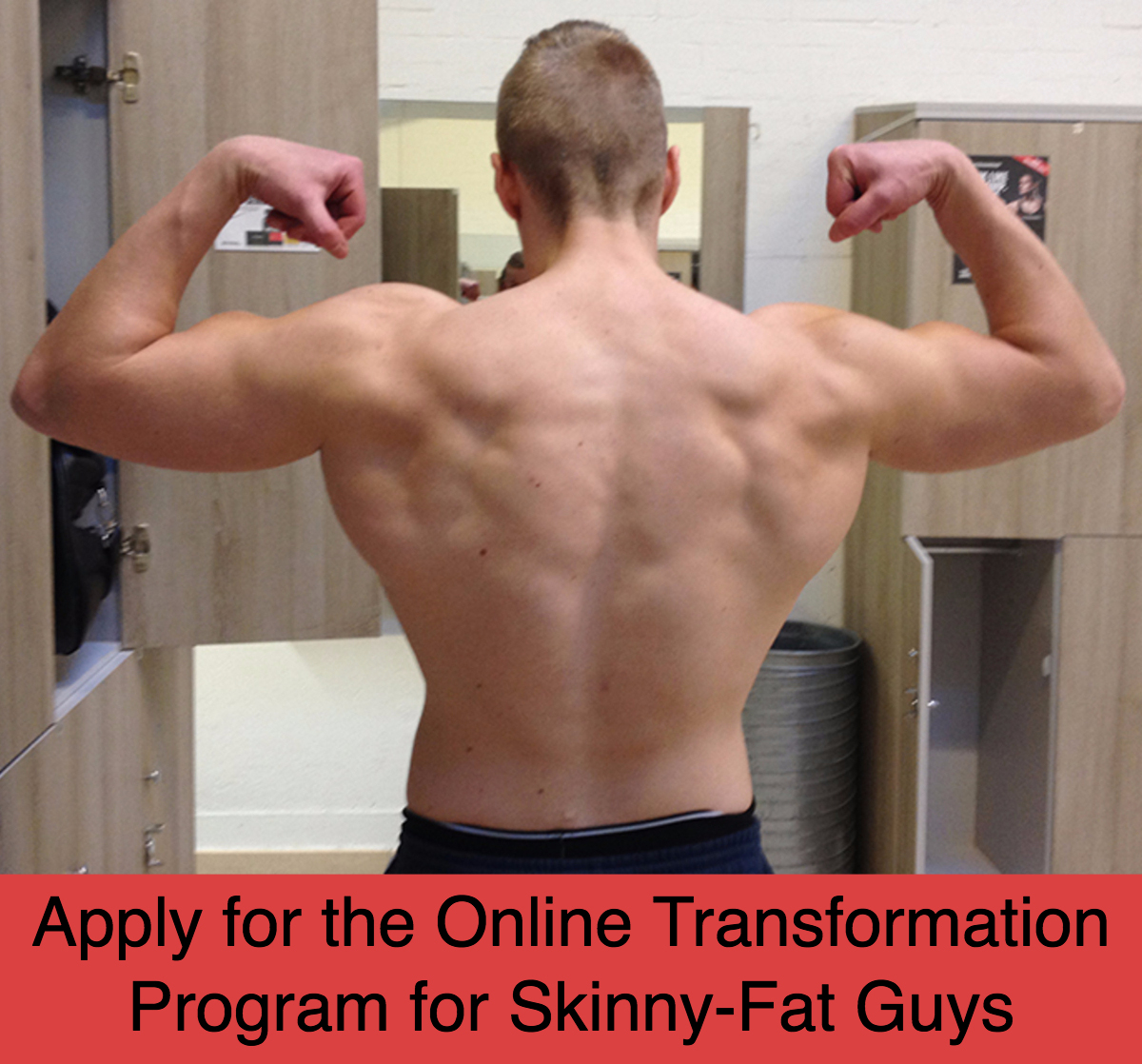 Read my free 50 page guide "The 2 Phases of a Skinny-Fat Transformation"