Page last updated: September 2019 by Oskar Faarkrog, ISSA Certified Trainer
Is coaching a must? Not at all.
I personally never had a coach and I still shredded 60 pounds of fat and gained more than 40 pounds of muscle mass.
However, before I got these results, I spent 2 years following free bodybuilding advice online and doing all the wrong things:
Training with heavy weights.
Eating a high protein and low carb diet.
Doing a lot of cardio.
During these 2 years, I did all the things mentioned above.
I did heavy squats, bench presses and deadlifts 3 times per week and in just my first year of training, I added a total of 500 pounds to my deadlift, bench press and squat.
I also followed a high protein diet and supplemented with whey protein powder.
Needless to say, doing these things didn't work for me.
Here's a photo showing my first 2 years of "training progress":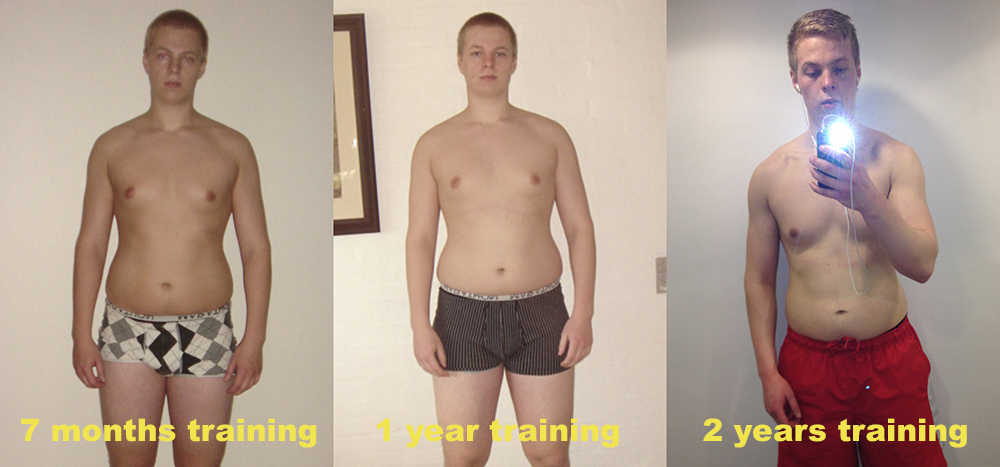 Now, that doesn't mean that all free advice is bad!
There's plenty of great advice out there (especially on my blog SkinnyFatTransformation.com), but the issue with free advice is that there's so much of it, and most of it isn't optimal for your unique situation.
For example, doing a minimalistic routine of diamond push ups, pull ups and bodyweight squats worked VERY well for me in my 3rd year of training, but it doesn't work well RIGHT NOW.
And the training program that works for me now, in my 7th year of training, may not work well for me next year.
What I'm trying to say is that unless you're experienced, it's very difficult to know what advice applies to your current situation, and when to make adjustments to your plan.
The #1 Reason To Why My Coaching Program Works: On-Going Adjustments
I wish I could tell you that my clients get amazing results because they're using that "one weird trick you haven't heard about" or following some "secret 8 minute arm blasting workout program".
But I can't tell you that because it's not true.
The reason to why my coaching program works is "boring", yet simple: On-going-adjustments to your training program and diet plan.
On-going-adjustments are CRUCIAL because as we work on your 12 week or 6 month body-transformation, your fitness levels, hormonal balance and metabolism change.
This means that to keep getting results, you need to regularly tweak your diet and training strategy.
While going through my own 3 year body-transformation, I used MANY different diet and training strategies and the same goes for my online coaching clients who go through their own transformation.
…And that's why one of the most important components of my coaching program is the weekly check-ins.
Each Sunday, you will check in with me in a shared Google Sheet. 
In this sheet, you will put in your body-measurements, the week's training stats and I will then be able to:
Evaluate your progress based on my 6+ years experience transforming my own body and coaching almost 100 skinny-fat men online.
Make tweaks to your diet and training strategy or write a new training program and diet plan for you whenever I see that your progress isn't optimal.
These check-ins and adjustments ensure that you get the best results you possibly can because you don't waste time following strategies that don't work for your unique body-type.
The check-ins also help us adjust your initial training and diet strategy in the case that it doesn't work for you.
Essentially, the check-ins ensure that you get results and benefit as much as possible from the coaching.
You can see an example of a client's 12-week check-ins below:
(If the image is too small to view, click here to download a bigger version).
In this example you can see my client who added 12 reps to his pull up max in just 12 weeks and lost 12 CM around his waist.
During these 12 weeks, he felt like he wasn't making much progress, but the small gains he made each week REALLY added up and enabled him to shred his body-fat and build a massive amount of strength, especially on his upper body.
Now, this client is just an ideal example of a guy who responded very well to the first strategy I sent him.
I also have clients who don't respond to the training program and diet plan that I send them, despite trying their best following it.
This happens because no matter how many books I read and no matter how many clients I coach, I will never be able to design a perfect plan from the get-go.
Each person is different and even the best health experts in the world only understand a small percentage of the internal workings of the body and brain.
Therefore, NO ONE out there can design a perfect plan for you unless they actively monitor your progress and adjust your plan along the way.
And that's why the on-going adjustments and coaching are so important.
When a client doesn't see a progress on their initial plan, it's most often because it has to be adjusted to their unique situation. Not because they don't work hard enough!
Is My Coaching Program Right For You?

My clients come from a variety of backgrounds.
I've coached senior directors in some of the world's biggest companies who work ALL DAY LONG and do their training sessions in the office during lunch break.
I've coached guys who hit rock bottom in their life and lost it all after going through tragical events.
I've coached teenage kids with hormonal problems and low confidence going through high school.
Regardless of where you're at, the most important things are that you're coachable and motivated to make a change.
With coachable, I mean that you will be open to try new things that may seem strange to you because doing what you've always done, will give you the results you've always gotten.
In regards to being motivated to make a change I mean that you don't need me on the side-line to push you to do your training sessions or prepare your meals. Your motivation comes from within.
If that sounds like you, the rest will take care of it self because once we start your coaching, you will fill out a Comprehensive Client Assessment Form which covers your unique body-structure, fitness levels, diet preferences, lifestyle, overall health and much more.
My former client Harshit Godha, 1 Year Transformation
These will give me a great overview of where you're at, how your daily life looks like and where you want to be in a year from now.
Based on that, I will be able to design a body-transformation strategy that you can actually follow through with and which fits your lifestyle.
I will ensure that you feel satiated and energised on your diet and that you do exercises that work well for your unique body-type.
During your coaching, you will have daily access to my private email address so you can ask ANY questions that come up.
Questions such as:
"Can I replace chicken breast with sashimi?"
"Can I add a snack between lunch and dinner because I'm hungry?"
"I don't feel my shoulders working on dumbbell reverse flyes. Can you check my video and give me feedback on my form?"
Your questions will usually be answered within 24 hours by me personally  (not an assistant) and at busy times, it might take up to 48 hours but NEVER more than that.
I will also monitor your progress in a shared Google Sheet on a weekly basis and make adjustments to your plan whenever needed. (Remember, the adjustments are the #1 reason to why my coaching program works).
To get an idea of the kind of results my online coaching program produces, I highly recommend that you watch the 5 minute video below:
Personal Coaching Contents:
Customised Training Program (PDF): Includes a full training program with warm-up, resistance training program, stretching program, progression strategy and instructional videos of all exercises in an easy to understand lay-out. Everything from sets, reps and rest time between sets will be covered and the training program will be designed to reach the goals you write inside your Client Assessment Form.
Customised Diet Plan (PDF): The diet plan will outline the exact meals you have to eat throughout the day with different options for most of your meals so you can turn your brain off and get ready to lose fat (or gain muscle mass). And if you can't cook your meals, I will give you realistic dietary guidelines to follow and work with you to find a flexible solution that fits your lifestyle.
New Training Programs and Diet Plans: Whenever needed, I will send over new diet plans and training programs to you so you can keep making optimal progress.
Unlimited access to my private coaching email address for 1-on-1 support: I offer email support (I have a separate e-mail account for online clients), so any time you have a question just shoot it over and I'll usually reply within 24 hours and never later than 48 hours. The more information I have, the more I can do for you, so I always encourage people to let me know about their energy levels on the diet, if any exercises cause discomfort or any other issues that come up.
Supplement Guide: I will teach you about the most important training and diet supplements, the recommended daily dosage, when to cycle off the supplements to prevent having too much of something in your body and provide you with links to purchase the supplements online.
Weekly Progression Check-Ins: Every Sunday, you will check in with me in a shared Google Excel Sheet where you input your body-measurements, bodyweight and key training stats.  Based on your weekly check-ins and monthly progression photos, I will make adjustments to your diet and training strategy whenever needed. For example, if the goal is fat loss and you don't lose size around the waist or hips for 14 days straight, I will go in and adjust your diet plan to support fat loss.
Apply For Coaching Today
You can apply for coaching through the email form at the bottom of this page.
In your email, briefly tell me a bit about yourself: Your current fitness levels, goals and how your current diet and training look like.
I will then get back to you within 48 hours and tell you if we are a good fit for working together. (In the case you don't see a response from me within 48 hours, please check your SPAM folder since my emails can end up there sometimes).
Here's that contact form where you can send your application:
[si-contact-form form='1′]